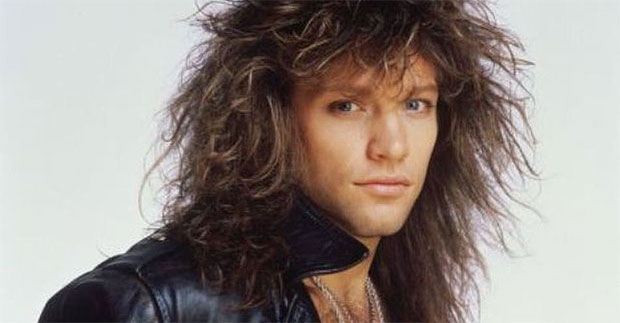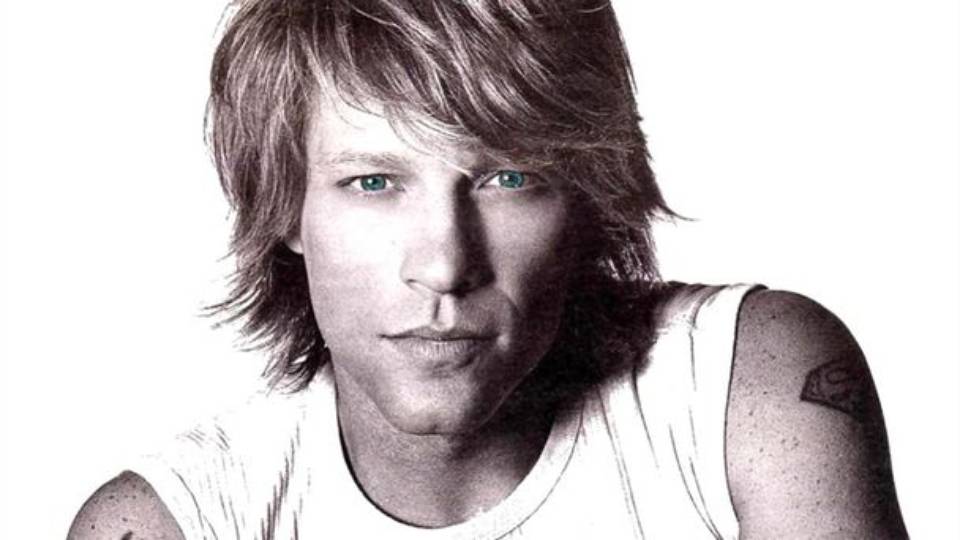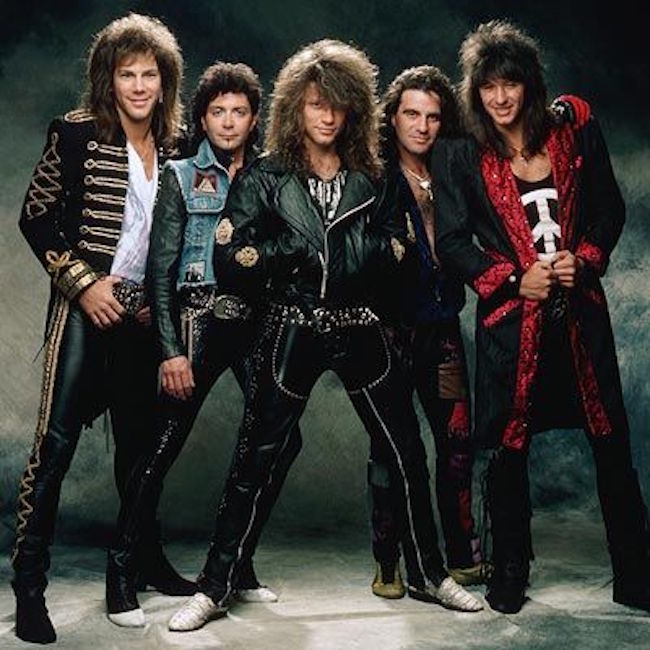 Bon Jovi es una banda estadounidense de rock1 formada en Nueva Jersey, en 1983, por su líder y vocalista Jon Bon Jovi. La formación actual la completan David Bryan (teclista), Tico Torres (batería), Hugh McDonald (bajista), y Phil X (guitarrista).2 Durante sus primeros años fueron considerados como una de las bandas características del glam metal, siguiendo así el mainstream de la década de los ochenta, que destacaba por su imagen glamorosa y sus largas melenas bien cuidadas; aunque ellos siempre han querido alejarse de los calificativos y se consideran a sí mismos una banda de rock and roll en general.
Bon Jovi durante una conferencia de prensa en Madrid en 2013.
A pesar de que su éxito no fue inmediato, lograron buenas críticas con su álbum debut, Bon Jovi (conocido también como «Runaway», por el sencillo con el que el grupo se dio a conocer), que vio la luz en 1984.8 Tras el fallido intento del segundo disco, 7800° Fahrenheit, con el que pretendían darse a conocer internacionalmente, lograron por fin su meta con Slippery When Wet, que llegó a ser el álbum más vendido del año 1987 en Estados Unidos y supuso un gran éxito a nivel mundial, alcanzando las 28 millones de copias y convirtiéndose así en uno de los álbumes más exitosos de la historia.9 10 De este álbum, además, sobresale su tema de mayor éxito; «Livin' On a Prayer», designada como la mejor canción de rock de la década de los ochenta por la cadena estadounidense VH1.11 En 1988 cosecharon un éxito similar con New Jersey, cuyos sencillos «Bad Medicine» y «I'll Be There For You» alcanzaron el No.1 del Billboard Hot 100.12 13 Ya en los noventa Bon Jovi se desmarcó del sonido glam que le había caracterizado en la década anterior, género que decayó a principios de los noventa debido al auge del 'rock alternativo. Por esta razón muchos consideraron que las bandas ochenteras como Bon Jovi estaban acabadas, sin embargo, el grupo estadounidense dio un cambio radical a su música y regresó en 1992 con el álbum Keep The Faith, que llegó a vender más de 12 millones de ejemplares.
Algo similar ocurrió al inicio de su tercera etapa en 2000, cuando alcanzaron gran éxito y repercusión gracias al sencillo «It's My Life», que fue número uno en las listas de nueve países y consiguió seis discos de platino. A partir de 2007 Bon Jovi renunció definitivamente al sonido hard rock que le había caracterizado desde sus inicios, y convirtió su música en un pop rock melódico y accesible, con el fin de atraer a un público más rentable. A pesar de que sus ventas de discos cayeron en picado, la banda sigue llenando estadios, ya que cuenta con una de las masas de seguidores más fieles e incondicionales del panorama musical. En 2013 el guitarrista Richie Sambora abandonó la banda, debido a diferencias con su líder, Jon Bon Jovi.15 Esto, sumado al parón indefinido, acentuó los rumores de una posible separación de la banda, pero en 2016 regresaron con un nuevo guitarrista, Phil X.
El bajista Hugh McDonnald durante una actuación.
Jon Bon Jovi y David Bryan se conocieron en el instituto superior de Sayreville (Nueva Jersey). Los dos solían ensayar juntos después de clase y a finales de 1977 se unieron a la banda escolar Atlantic City Expressway, con la que lograron tener cierto eco en los clubes de la zona. En 1978 David Bryan decidió irse a estudiar a la Juilliard School of Music de Nueva York, y Jon se marchó con él. Durante su estancia en la gran ciudad, Jon trabajó en los estudios Power Station, propiedad de su primo Tony Bongiovi, barriendo suelos y limpiando retretes. Allí pudo ver grabar a grandes bandas de la talla de Queen, The Rolling Stones o Aerosmith.9 Durante esos años Jon escribió algunas canciones, que más tarde fueron editadas en un recopilatorio titulado The Power Station Years.
En 1983, Chip Hobart, director de la estación «WAPP FM», lanzó un disco donde se recopilaba una canción de cada artista nuevo, y Jon Bon Jovi aprovechó para llevar su canción «Runaway» (tema que él escribió en 1980 y grabó en 1982 cuando el estudio estaba vacío); fue la canción que más destacó de ese álbum. Debido a la gran acogida que tuvo, le pidieron hacer un concierto, pero necesitaba una banda propia. Entonces Polygram, que se había fijado en Jon, le hizo un gran contrato dándole la libertad de contratar a los músicos que él quisiera. Jon reclutó entonces a David Bryan como teclista, quien a su vez le recomendó reclutar al bajista Alec John Such, miembro de The Message, y al batería cubano Tico Torres.18 Algunas fuentes apuntan a que Dave Sabo, amigo y vecino de Jon, fue el primer guitarrista de la banda, pero en cualquier caso este nunca fue reconocido como miembro oficial.18 Más tarde se incorporó Richie Sambora, que acababa de hacer una audición para entrar en el grupo Kiss, pero fue rechazado por no cumplir el perfil.19 Sambora estuvo viendo tocar a la banda de Jon Bon Jovi y posteriormente se presentó al casting para ser el nuevo guitarrista; tras unos minutos tocando convenció a Jon y este le incluyó en el grupo. A partir de entonces comenzaron sus actuaciones como teloneros, entre otros, de ZZ Top en el Madison Square Garden.
Jon Bon Jovi, 25 de mayo de 2006.

El 21 de enero de 1984 salió a la venta su primer disco homónimo, Bon Jovi, con el ya mencionado sencillo «Runaway», que llegó al top 40 y sus ventas superaron las 300 000 copias. «She Don't Know Me» fue su segundo sencillo, y el único tema del disco que no estaba compuesto por ninguno de los integrantes del grupo. Más tarde lanzaron «Burning For Love» como sencillo exclusivo para Japón. Con el tiempo la banda fue adquiriendo más fama teloneando a grandes grupos como Scorpions o Kiss. En 1985 alcanzaron el disco de oro con el álbum 7800º Fahrenheit, del cual se lanzaron los sencillos «In and Out of Love», «Silent Night» y «Only Lonely». El disco atrajo cierto interés, pero no el éxito que deseaban, además no recibió buenas críticas por parte de la prensa musical, que llegó a calificarlo de «mediocre». Más adelante Jon afirmó que el escaso éxito del álbum se debió al poco tiempo que le otorgó la discográfica para componerlo, ya que pretendían aprovechar el tirón del primer disco.9
Ese mismo año la banda participó en el festival «Monsters Of Rock», pero no fue suficiente para dar el salto a la fama; no pudieron asistir al Live Aid.16 Posteriormente Jon Bon Jovi descubrió a Cinderella, que por entonces actuaba como una banda de bar en el Empire Rock Club de Filadelfia, e hicieron una gira juntos por todo el país, lo cual contribuyó a aumentar la fama de ambos conjuntos.