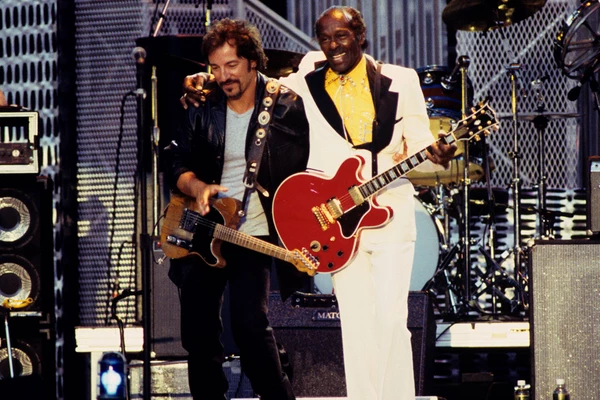 Bruce siempre ha sido un gran admirador del conocido como "el padre negro del Rock and Roll". En numerosas ocasiones hemos oido a Bruce interpretar temas de Chuck Berry pero en 1995 con motivo de la apertura del museo del Rock´n Roll Hall Of Fame en Cleveland volvieron a reunirse interpretando juntos Johnny B Goode.
Especialmente curiosa es la entrevista que viene a continuación, en la que Springsteen habla con mucha gracia sobre su admirado Chuck Berry. Fue grabada en 1986 para la película sobre Chuck Berry Hail Hail Rock´n´Roll . Bruce cuenta la historia de cuando tocaron juntos el 28 de abril de 1973, en la Universidad de Maryland.
Fue un único show, pero con tres entradas distintas y con precios diferentes.
En el cartel: Chuck Berry, Jerry Lee Lewis y Springsteen y la E Street Band como teloneros.Springsteen se enteró de que el promotor de ese concierto estaba buscando un grupo que hiciera de telonero y no dudó en ofrecer gratuitamente sus servicios. Se vendieron las 5.500 entradas y el concierto no estuvo exento de polémica porque muchos fueron los que intentaron entrar en el recinto colándose por los baños.
La actuación de Bruce y la Street Band fue prácticamente improvisada, no hubo tiempo para ensayos con Chuck ni para pruebas de sonido, así que Bruce y su banda intentaron hacerlo lo mejor posible.Springsteen tenía sólo 22 o 23 años y Chuck era uno de sus ídolos. En la entrevista Bruce cuenta cómo Chuck llegó al concierto cinco minutos antes de que empezara la actuación, la estrella del rock, llegó en su propio coche, con humildad, sólo con su funda de guitarra en la mano. Llegó, les saludó y Bruce y su banda, absolutamente nerviosos, no tuvieron más remedio que seguirle sobre el escenario sin tener nada atado, ni siquiera los temas que iban a tocar. Una vez terminó la actuación, Chuck se fue como llegó, sin ruido, por la parte trasera del escenario. Cogió su coche y se largó. Así de simple!.
El año pasado en Bilbao Bruce rindió su particular homenaje a Chuck Berry al interpretar You Never Can Tell. Hacía 35 años que no lo hacía.
Merece también la pena escuchar Sweet Little Sixteen (Maryland 1978)