En unos minutos el Casino entero estaba en llamas. El fuego y el humo se reflejaban en el agua del lago Ginebra y eso es lo que Roger Glover, el bajista de Deep Purple, le llevó a titular 'Smoke on the water'
Ian Gillian, el cantante de Deep Purple, en el mes de noviembre de 1971, había tenido que ser hospitalizado por una puñetera hepatitis. Y aún había peor noticia para la banda, porque los médicos le había recomendado que al menos estuviera en reposo absoluto durante tres meses. Con el consentimiento de Gillan, la banda decidió grabar un álbum antes de que el cantante estuviera fuera de combate. Como habían tenido una magnífica actuación en el mes de mayo en el Casino de Montreaux, decidieron viajar así para grabar su sexto álbum. Dadas las prisas, le pidieron a Claude Nobs, el promotor de conciertos del Casino, poder grabar en el segundo piso, un lugar que al grupo le había dado suerte. Sólo quedaba un concierto del maravilloso Frank zappa, que en aquellos días realizaba una gira mundial, gracias al enorme éxito de su revolucionario film 2oo Motels. Deep Purple llegaron el 3 de diciembre y se alojaron en el hotel Edén Au lac, a unos cientos de metros del Casino. Un lugar ideal. Al día siguiente, mientras Don Preston, el magnífico organista de los Mothers of Invention de Zappa especulaba con un solo en el tema King Kong, a un imbécil se le ocurrió lanzar una bengala al techo del Casino. Las llamas se hicieron imponentes en pocos segundos.
Zappa, con su pérfido sentido del humor se le ocurrió decir: "Se ha presentado Arthur Brown en persona en este concierto". Se refería al cantante que había hecho el gran éxito Fire. Flo and Eddie se echaron a reír, pero el momento no era para reírse. En unos minutos el Casino entero estaba en llamas. El fuego y el humo se reflejaban en el agua del lago Ginebra y eso es lo que Roger Glover, el bajista de Deep Purple, le llevó a titular Smoke on the water desde la ventana de su habitación en el Hotel Edén. El desastre fue total. Zappa perdió más de 50.000 dólares en su propio equipo. Pero como en un milagro, no hubo ni una sola víctima. Habían alquilado el estudio móvil de los Rolling Stones que costaba cien libras esterlinas por día y ya no podían grabar lo previsto en el Casino. Otra vez, recurrieron a Claude Nobs, que se le ocurrió que podían grabar en un viejo teatro llamado el Pavilion, que había cerrado en el invierno. Pero a las pocas horas de instalar los micros en el teatro y grabar una canción del guitarrista Ritchie Blackmore, con un tremendo "riff" a la que llamaron Tittle Nº1, la policía se presentó en el teatro y les obligaron a desalojar.
El dinero seguía gastándose y solo habían grabado una canción en el magnetófono de 16 pistas en el estudio móvil de los Stones. Los de Deep Purple buscaron otro lugar mágico para grabar y la suerte les encontró consiguiendo un subterráneo que había servido como refugio durante la Segunda Guerra Mundial. Al final, una vez más el promotor suizo les dijo que podían utilizar los viejos y grandes salones del Gran Hotel, un destartalado espacio de estilo victoriano. El 22 de diciembre pudieron terminar el álbum, con apenas con solo siete canciones. La única canción que no habían integrado era precisamente la famosa Tittle Nº 1. Les pareció excesivamente simple. Richie Blackmore convenció al organista Jon Lord dados sus conocimientos de música clásica. Jon Lord y el resto tardaron en grabarla porque Richie convenció a Lord en doblar su "riff" de guitarra con el órgano Hammond, pasado y distorsionado por un amplificador Marshall. Además, le gustó al resto del grupo, la historia que Ritchie les había contado, al componerla como un sueño producido por escuchar una emisora de radio búlgara o turca ,que emitía una especie de cuatro notas similares a la de su canción.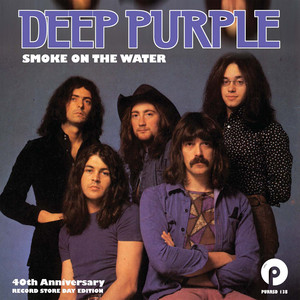 Roger Glover se acordó de aquella imagen de Smoke on the water y sedujo al cantante Ian Gillian para que siguiera con la letra y éste compuso con referencias a todo lo que habían vivido en aquellos 15 días. Incluye la frase de "...swiss time was running out", ya que a falta de problemas, estaban a punto de caducar sus visados para seguir en Suiza. Finalmente, decidieron que el título del álbum se llamara Machine Head, en homenaje al gran Claude Nobs, el organizador del gran festival de Montreaux. El sexto disco de Deep Purple apareció en marzo del año 1972. Tuvo una gran aceptación y fue número uno en varios países pero Smoke on the water no apareció como single hasta un año después que pasó a ser un éxito monumental e histórico a la altura de Starway to Heaven. Y, desde luego, una de las canciones perfectas del mundo del rock, un clásico insuperable. Una vez me dijo Roger Glower que hubo momentos en que creyeron que en lugar de llamarse Deep Purple se llamarían en realidad Smoke on the water. Para recordar esa noche terrible, esa noche que se reflejaría en el lago Ginebra, existe una estatua cercana a la de Freddie Mecury, y donde se puede leer "Deep Purple, Smoke on the water" e incluso las cuatro notas del famoso "riff" de guitarra.
Fuente
http://www.elmundo.es