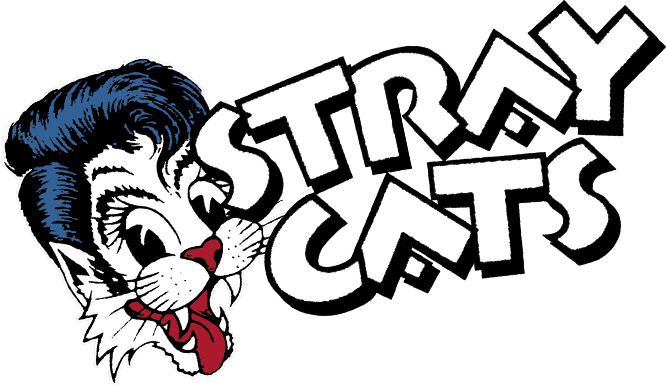 Son uno de los grupos más importantes del revival del Rockabilly y del nacimiento del Psychobilly en los primeros años 80.
Stray Cats (1990).
The Tomcats, la banda formada por Brian Setzer y su hermano, fue el inicio de los futuros "Stray Cats", que nacerían en 1979 en Nueva York cuando el hermano de Setzer abandonó la formación y a esta se unieron Lee Rocker y Slim Jim Phanton, compañeros de clase de Brian.
La música interpretada por este trío, se basaba en el Rock and Roll de los años 50 que se editaba en el sello discográfico "Sun Records" de Sam Phillips en Memphis, Tennesse, y se encontraba fuertemente influenciada por el estilo de "Bill Haley and The Comets".
Sus inicios serían difíciles, por ende, viajaron a Inglaterra para poder triunfar bajo el mando de Brian Setzer y su Gretsch G6120, lo cual consiguieron después de publicar su primer disco, The Stray Cats, en 1981. Una de las razones que motivó al grupo a mudarse a Inglaterra, fue el revival de una joven subcultura, la de los "Teddy Boys", que utilizaban laca para peinarse, en lugar de vaselina y cuyos peinados eran escandalosamente coloridos.
Fue en el nombrado disco, donde el público pudo deleitarse con tres de los temas más emblemáticos del grupo: "Runaway Boys", "Rock this town" y su estandarte melódico, "Stray cat Strut".
En 2004, coincidiendo con el 25º aniversario de la formación del grupo, los Stray Cats se reunieron nuevamente en una gira por todo el mundo. En España les llevaría hasta Barcelona y Gijón.
Al comienzo de agosto de 2008 los Stray Cats volvieron a los escenarios de Europa, comenzando en España. Esta fue la gira de despedida del grupo, conocida como "Farewell Tour" y en la que los Cats dijeron adiós a sus fans, aunque cada uno seguiría su camino como en los últimos años.
En España han influido sobre grupos como el trío Los Bucaneros, de Alicante, que recreaban fielmente el estilo y estética de Stray Cats. Sin olvidar a Los Coronados, grupo formado en Asturias pero asentado en Huelva, que grabó una versión en castellano de "Stray Cat Strut". Esta versión se haría imprescindible con el tiempo en todos los recopilatorios de rockabilly español. En Colombia solamente Marco T. & los gatos Montañeros exploraron esa línea durante finales de los ochentas y hay una versión en español de "Rock this town" llamada "Busquemos donde rockear" adaptada por el mismo Marco T. precursor del género en su país. En Chile, el grupo de rock Los Tres ha reconocido también la influencia de Stray Cats. En Argentina la banda "Los Salvajes Rockabilly"incluye un repertorio de temas propios y algunos covers al estilo Stray Cats con una formación igual a la del mencionado grupo integrada por el talentoso cantante, guitarrista y pianista "Bat-Mario" Fernández.
En el 2014 Drake Bell realizó un gira por México tocando algunas canciones de los Stray Cats.