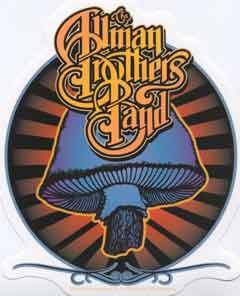 Sus dos primeros álbumes de estudio apenas tuvieron repercusión, pero su trabajo en directo At Fillmore East (1971) representó un gran avance artístico y comercial. El disco incluye extensas versiones de sus temas «In Memory of Elizabeth Reed» y «Whipping Post» y a menudo está considerado como uno de los mejores álbumes en directo. Duane Allman falleció en un accidente de motocicleta poco tiempo después y la banda completó en su memoria Eat a Peach (1972), una recopilación de pistas de estudio y en directo que cimentó su popularidad.1 Tras la muerte de Berry Oakley a finales de ese año, la agrupación reclutó al teclista Chuck Leavell y al bajista Lamar Williams para la grabación de Brothers and Sisters (1973),1 que junto al sencillo «Ramblin' Man», situaron a la banda en la vanguardia de la música rock de la década de 1970. Tras algunos problemas personales The Allman Brothers Band se separó en 1976 para reformarse a finales de esa misma década y volver a disolverse en 1982.
El grupo volvió a reunirse una vez más en 1989 y a lo largo de la siguiente década publicó nuevos álbumes y actuó en directo con asiduidad.1 Con la llegada del nuevo milenio, Dickey Betts abandonó la formación, sin embargo, la llegada del bajista Oteil Burbridge y de los guitarristas Warren Haynes y Derek Trucks (sobrino de su batería), llevó a la banda a encontrar estabilidad durante más de una década.1 En 2014, debido a la salida de sus dos guitarristas, la agrupación volvió a separarse.3
The Allman Brothers Band ha conseguido once discos de oro y cinco de platino de la RIAA,4 ha sido situada entre los 100 mejores artistas de todos los tiempos por la revista Rolling Stone y en 1995 fue incluida en el Rock and Roll Hall of Fame.5 6 Según la revista Billboard, la banda habría vendido más de veinte millones de copias en todo el mundo hasta 2002
Duane y Gregg Allman, su hermano pequeño, crecieron en Daytona, Florida, donde tuvieron su primer contacto con la música. Gregg fue el primero en aficionarse a tocar la guitarra, aunque pronto será superado por su hermano; tanto, que éste abandonó el instituto para ensayar constantemente.8 El dúo formó el proyecto Escorts, que acabaría por convertirse en The Allman Joys, a mediados de la década de 1960.1 Por aquella época, Gregg conoció a un amigo afroamericano que le introdujo a la música soul y al r&b, estilos que incorporaría al sonido de su grupo. En 1967, la banda pasó gran parte de su tiempo en St. Louis, donde la descubrió un ejecutivo musical de Los Angeles, ciudad a la que la agrupación se trasladaría tras cambiar su nombre por Hour Glass y grabar dos discos con la discográfica Liberty Records.1 Tras el fracaso de estos álbumes, Duane se marchó a Muscle Shoals, Alabama para trabajar como músico de sesión, mientras que Gregg se quedó en Hollywood vinculado con las obligaciones contractuales de Liberty.9 Los dos hermanos estuvieron separados durante un año, sin embargo, ambos coincidieron en Miami para participar en una maqueta del grupo 31st of February, cuyo batería era Butch Trucks.
En los estudios FAME de Muscle Shoals, Duane Allman llegó a ser el principal guitarrista de sesión y participó con artistas como Aretha Franklin o King Curtis.1 Duane sugirió a Wilson Pickett grabar una versión de «Hey Jude» de The Beatles que finalmente alcanzó la posición veintitrés del Billboard Hot 100.11 El guitarrista firmó con FAME un contrato de cinco año de duración y formó un nuevo proyecto musical que incluía a Johnny Sandlin y Paul Hornsby. Duane también reclutó al batería Jai Johanny «Jaimoe» Johanson, al que había escuchado en una maqueta de Jackie Avery, y pronto los dos se fueron a vivir a su casa junto al río Tennessee. Allman invitó al bajista Berry Oakley, a quien había conocido tiempo atrás en Jacksonville, para que se uniera al grupo.12 La inmediata química entre los miembros y la visión de Duane de una banda «diferente» —que incluía dos guitarristas y dos baterías—, pronto empezó a evolucionar.12 Mientras tanto, Phil Walden, el mánager del fallecido Otis Redding y otros artistas de r&b, estaba buscando expandirse con la búsqueda de músicos de rock.13 El propietario de FAME, Rick Hall, frustrado por los métodos de grabación de la agrupación, ofreció las pistas que ya había grabado y su contrato a Walden y a Jerry Wexler de Atlantic Records, quien los compró por 10 000 USD.14 Walden tenía la intención de convertir a la banda en la pieza central de su discográfica, Capricorn Records, subsidiaria de Atlantic.
Duane y Jaimoe se trasladaron a Jacksonville a comienzos de marzo de 1969, debido a que el primero estaba descontento de actuar como un «robot» para los estudios FAME.16 Una vez allí, invitaron a todo aquel que quisiera que se uniera para improvisar. El batería Butch Trucks y Oakley también se les unieron y este último trajo consigo al guitarrista Dickey Betts. Reese Wynans, miembro de Second Coming junto a Oakley y Betts, también ingresó en el proyecto, en el cual Allman y sus dos compañeros en Second Coming ejercían la labor de vocalista.17 El grupo, todavía sin nombre, empezó a realizar actuaciones gratuitas en el parque Willow Branch (Jacksonville) con una cambiante rotación de músicos.18 Duane notó que su hermano debería ser el vocalista y éste ingresó también como reemplazo de Wynans como teclista.19 Gregg se unió al grupo el 26 de marzo, cuando sus compañeros ensayaban su versión de «Trouble No More» de Muddy Waters.20 Cuatro días después, la banda hizo su debut en la armería de Jacksonville.21Tras barajar varios nombres, como Beelzebub, el conjunto finalmente se decantó por The Allman Brothers Band.
......