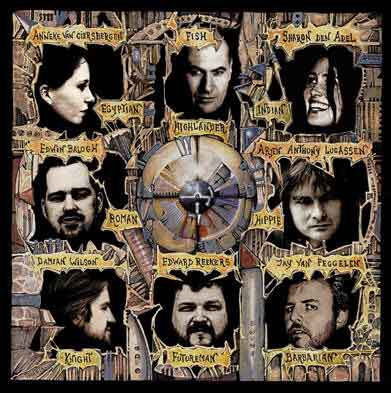 El estilo de Ayreon se caracteriza por el uso de instrumentos de rock tradicionales (guitarras, bajo, batería, sintetizadores analógicos, órganos electrónicos) mezclados con instrumentos de música clásica y folklórica (mandolinas, violines, violas, cellos, flautas, cítaras, etc)
Arjen Lucassen es el hombre que compone la música y la letra, y canta y toca en todos los álbumes de Ayreon junto a varios músicos invitados. Su colaborador más recurrente es el baterista Ed Warby, y el flautista Jeroen Goossens participó en todos los álbumes de Ayreon desde The Human Equation en 2004.
Arjen Anthony Lucassen is a composer and musician from the Netherlands.
Después de confirmar que dejaría de continuar la discografía de Ayreon tras la salida de 01011001, el 9 de octubre de 2012 anunció mediante un video en tono bromista que volvería a grabar un nuevo disco empezando una línea argumental totalmente diferente. En marzo de 2013 se confirmó que dicho álbum se llamará The Theory of Everything.
Adicionalmente, en septiembre de 2015, The Human Equation fue interpretada en vivo en una producción teatral llamada The Theater Equation.
En octubre de 2016, Arjen Lucassen anuncio a través de su pagina de Facebook, que lanzaría un nueva álbum de Ayreon en la primera mitad de 2017. También anunciando gradualmente a los cantantes que participarían en dicho álbum. Adicionalmente en noviembre de 2016 anunció que Ayreon presentaría 3 diferentes conciertos del 15 al 17 de septiembre de 2017, teniendo como invitado a 16 vocalistas que han participado en los diferentes álbumes de Ayreon.
Ayreon Universe incluirá a Floor Jansen y Marco Hietala (Nightwish), Russell Allen (Symphony X), Damian Wilson (Threshold), Hansi Kürsch (Blind Guardian), Tommy Karevik (Kamelot), Anneke van Giersbergen (The Gentle Storm), Jonas Renkse (Katatonia), Mike Mills (Toehider), Marcela Bovio (Stream of Passion), Irene Jansen (Ayreon), Robert Soeterboek (Star One), Edward Reekers (Kayak), Jan van Feggelen (Ayreon), Magali Luyten (Nightmare) y Lisette van den Berg (Scarlet Stories).
El propio Arjen explicó el origen del nombre "Ayreon" en una entrevista:
"Aunque me gusta que mi propio nombre suene parecido al nombre del proyecto, es pura coincidencia. ¡Aun así, nadie parece creerme! Originalmente, el nombre del personaje principal era "Aries". Pero tuve que cambiarlo para que encajara en la métrica de la canción. Quería que el nuevo nombre sonara anticuado, debido a las influencias medievales (del álbum), así que usé el sonido "AY" del inglés antiguo (como en Aylesbury, Ayrshire). Pero también quería que suene moderno, por las partes futuristas, así que usé "ON" (como en electron, neutron, etc), y así surgió Ayreon."