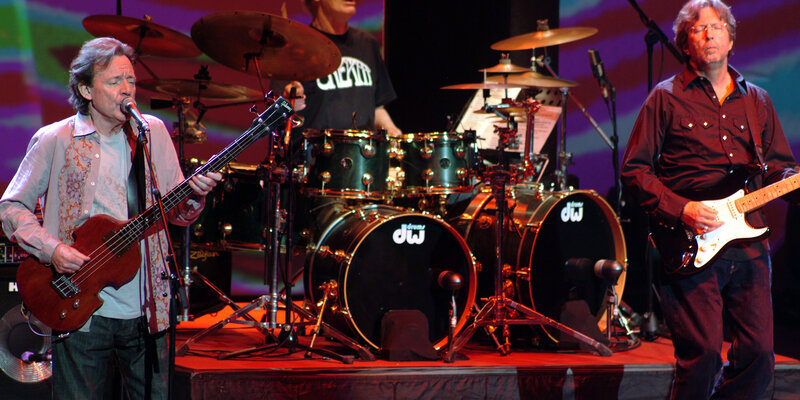 Cream fue un power trio de rock fundado en Londres, en 1966, por el bajista y vocalista Jack Bruce, el batería Ginger Baker y el guitarrista y vocalista Eric Clapton. Su sonido se caracterizaba por ser un híbrido de blues, rock psicodélico y pop.1 Cream es a menudo considerado como el primer supergrupo de éxito y a pesar de haber estado en actividad poco más de dos años,1 ha vendido más de quince millones de copias en todo el mundo hacia 2011, según la revista Rolling Stone.5 La banda tuvo un impacto significativo en la música popular de la época y, junto a Jimi Hendrix, popularizó el uso del pedal wah-wah.
Cream actuando en un programa televisivo en 1968.
De izquierda a derecha: Bruce, Baker y Clapton.
Después de grabar cuatro álbumes de larga duración —Fresh Cream, Disraeli Gears, Wheels of Fire y Goodbye—, el grupo se separó a finales de 1968 debido a la mala relación entre Baker y Bruce. La banda se reunió posteriormente en 1993 con motivo de su ingreso en el Rock and Roll Hall of Fame,8 y en 2005, para unas actuaciones en el Royal Albert Hall y el Madison Square Garden.4
A pesar de su corta trayectoria, Cream ha influenciado a un gran número de grupos posteriores,9 1 y ha sido incluido en la lista de los «100 mejores artistas de todos los tiempos» de la revista Rolling Stone.10 En 2006, el trío recibió un Grammy honorífico en reconocimiento a su carrera artística.
Hacia julio de 1966, Eric Clapton era reconocido como uno de los mejores guitarristas de blues en el Reino Unido debido a su trayectoria con The Yardbirds y John Mayall & the Bluesbreakers.12 1 13 Sin embargo, este abandonó el grupo de Mayall para crear una nueva banda.14 Ese mes, el guitarrista se reunió con Ginger Baker, batería de The Graham Bond Organisation, y conversaron sobre la posibilidad de crear un nuevo proyecto.15 Clapton comentó más tarde: «Siempre me había gustado Ginger [Baker]. Vino una vez a verme tocar con John Mayall & the Bluesbreakers y después del concierto me trajo de vuelta en su coche a Londres donde me comentó que quería formar un nuevo grupo, algo en lo que yo también había pensado».
Fotografía de Cream de 1967. De izq. a der.: Baker, Bruce y Clapton.
Clapton aceptó formar un nuevo proyecto con la condición de que Baker contratara a Jack Bruce, su compañero en The Graham Bond Organisation, como bajista.15 16 El guitarrista había conocido a este cuando tocó con John Mayall & the Bluesbreakers en noviembre de 1965 y había trabajado con él en Powerhouse, un proyecto de corta duración.17 18 Por otra parte, Baker y Bruce habían tenido fuertes discusiones cuando eran parte de la banda de Bond, lo que llevó al batería a despedirlo. Cuando el bajista cuestionó su derecho a tomar tal decisión, Baker le amenazó con un cuchillo.15 Sin embargo, por el futuro del nuevo grupo, ambos dejaron de lado sus diferencias.4
El trío eligió como nombre Cream debido a que los tres se consideraban la «crème de la crème» entre los músicos de jazz y blues de la escena musical británica.5 Inicialmente el grupo era llamado The Cream (con el artículo), pero a partir de lanzamiento de su primer trabajo se le conoció simplemente como Cream.19 Antes de decidirse por tal nombre, también se barajó la posibilidad de llamarlo Sweet 'n' Sour Rock 'n' Roll.15 De los tres, Clapton era el que mayor reputación tenía en el Reino Unido, pero en Norteamérica era casi desconocido; había dejado The Yardbirds antes de que el sencillo «For Your Love» alcanzara los diez primeros lugares del Billboard Hot 100.1 20
Cream hizo su debut oficial en el Sixth Annual Windsor Jazz & Blues Festival el 3 de julio de 1966.12 Al ser un grupo nuevo y con pocas canciones propias, el trío tocó algunos temas clásicos de blues.16 En octubre, la banda permitió a Jimi Hendrix que se le uniera para improvisar durante una actuación. Hendrix acababa de llegar a Londres y era un aficionado de la música de Clapton. Ambos se conocieron por la intervención de Chas Chandler, bajista de The Animals y mánager del guitarrista norteamericano.
Tras la disolución de Cream, Clapton y Baker formaron Blind Faith.
Entre julio y octubre, Cream grabó su álbum debut, Fresh Cream, que salió a la venta de diciembre.22 El disco alcanzó la sexta posición en la lista de Reino Unido y la trigésimo novena en la estadounidense.23 24 Fresh Cream se divide entre versiones de los temas «Four Until Late», «Rollin' and Tumblin», «Spoonful», «I'm So Glad» y «Cat's Squirrel», y canciones compuestas por Baker, Bruce y la esposa de este, Janet Godfrey.25 26 El sencillo «I Feel Free», aunque no fue incluido en la versión británica del álbum,25 llegó al puesto once del UK Singles Chart.23 La pista que cierra el álbum es «Toad», un tema instrumental que incluye un solo de batería de Baker.
Seguir leyendo........
https://es.wikipedia.org