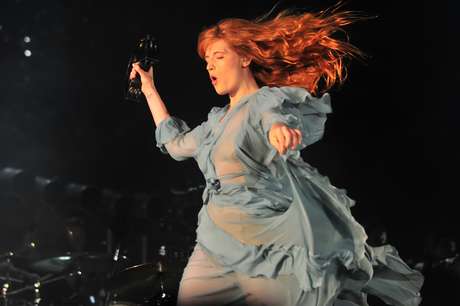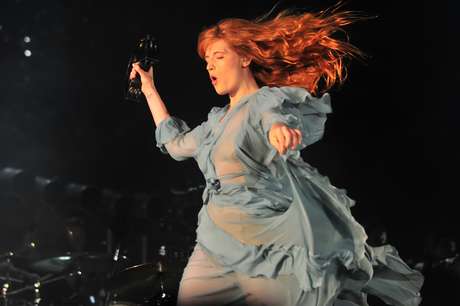 Florence Leontine Mary Welch
1
(
Londres
,
Inglaterra
,
28 de agosto
de
1986
)
2
3
4
es una
cantante
y
compositora
británica
, conocida por ser líder del grupo musical
Florence and the Machine
.
Nacida en Camberwell, un distrito al sur de Londres,5 Florence es la sobrina del escritor satírico Craig Brown y nieta del ex director adjunto de The Daily Telegraph y columnista del Daily Mail, Colin Welch.6 Es la hija de Evelyn Welch, profesora de Estudios del Renacimiento y Decana de Filosofía y Letras de la Universidad Queen Mary de Londres,7 y Nick Welch, un publicista.5 Su padre Nick, de origen onubense, contribuyó con un "elemento del rock and roll en la mezcla de la familia".8 Además, su padre, un confeso "intérprete frustrado", reconoció impulsar a Florence en que escuche la música de The Ramones en lugar de Green Day.
Florence fue educada en la Escuela Thomas Day de Londres, antes de trasladarse a la Alleyn's School, en el sudeste de Londres, donde le fue bien académicamente.1 Frecuentemente tenía dificultades en la escuela para el canto improvisado.9 Después de su meteórico ascenso a la fama, sufrió un ataque de depresión.10 Al salir de la escuela, Florence estudió en Camberwell College of Arts antes de abandonar sus estudios para centrarse en la música.1 La fascinación de Welch por el terror surgió debido a la muerte de sus abuelos. A los 10 años, Welch fue testigo de un deterioro de su abuelo y su abuela materna, también una historiadora del arte, se suicidó cuando Welch tenía 14 años.1 Cuando Welch tenía 13 años, ella y su madre se mudaron con su vecino de al lado y sus tres hijos adolescentes. Según Welch: "Nos llevamos estupendamente, pero fue una pesadilla en ese entonces. Solía quedarme en mi habitación y lo único que hacía era bailar. Estos hechos influirían en su música.11 Cuando era adolescente leía revistas de moda más que las revistas musicales. Puede ser que debido a este pasatiempo, decidió adoptar su cabello rojizo por su natural cabello castaño.12 13 Welch posee una gama vocal de mezzosoprano dramática,14 teniendo una extensión de tres octavas de mi3- fa#5 en voz de pecho y la 6 en voz de cabeza y tiene como una de sus máximas referentes a la cantante Stevie Nicks, de la banda popular de la década del '80 Fleetwood Mac, tanto musical como estéticamente.
El nombre de la banda Florence and the Machine, surgió cuando Florence Welch comenzó a hacer música con su amiga Isabella Summers. Se presentaban bajo el nombre Florence Robot / Isa Machine, atrayendo la atención local en 2006, hasta que fue considerado un tanto engorroso y se suprimió quedando el nombre actual, Florence and the Machine. Ambas se distanciaron algún tiempo y Florence Welch continuó actuando como Florence and the Machine. Posteriormente, Isabella Summers se re incorporó a la banda como tecladista.16
En 2007, Welch grabó con una banda de jazz-funk llamada Ashok, que lanzó un álbum titulado Plans para los sellos Filthy Lucre / About Records. Este álbum incluye la primera versión de su posterior éxito "Kiss With A Fist", que en ese entonces se titulaba "Happy Slap".17 Ella firmó con un gerente su contrato con Ashok, pero tenían la sensación de que ella no encuadraba en la banda, y decidió renunciar y a su vez, cancelar el contrato.
Mairead Nash es el representante de Florence and the Machine (una mitad del dúo de Queens DJ Noize), que decidió contratar a la cantante cuando una noche, ebria Welch siguió a Nash por los baños de un club1 9 cantando "Something's Got a Hold on Me" de Etta James.
También ha incursionado por fuera de la banda en varios proyectos. En 2009, colaboró en los coros de "She's No Sense" para la banda británica de indie rock The Big Pink, incluida en el sencillo de la canción "Dominos".18 En 2010, fue participe del álbum conceptual en homenaje a la famosa ex-primera dama de Filipinas, Imelda Marcos titulado Here Lies Love realizado por David Byrne y Fatboy Slim, en la canción "Here Lies Love".19 En 2011, Welch deslizó la posibilidad de colaborar con el rapero canadiense Drake,20 no obstante, en noviembre de 2011, su banda Florence and the Machine realizó una versión de Take Care para la BBC Radio 1 en la segmento Live Lounge.