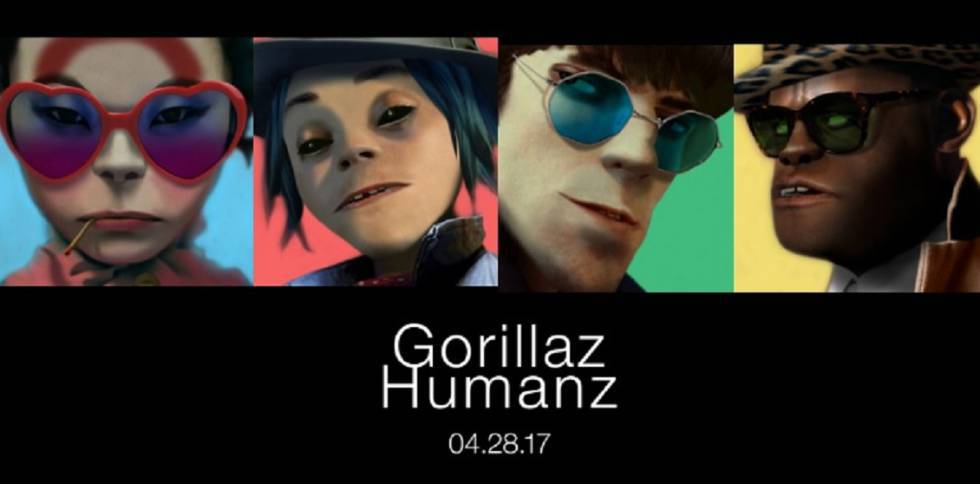 Gorillaz
es un grupo
británico
creado en
1998
por
Damon Albarn
y
Jamie Hewlett
, una
banda virtual
de
rock alternativo
conformada por cuatro personajes ficticios de dibujos animados. La banda virtual que representa al proyecto fue creada por
Jamie Hewlett
, co-creador del
cómic
Tank Girl
en
Essex
,
Inglaterra
. Los cuatro miembros ficticios de la banda son
2-D
,
Noodle
,
Murdoc Niccals
y
Russel Hobbs
. La mayoría de sus canciones vienen acompañadas de vídeos musicales animados, en
3D
o
2D
, estos vídeos suelen tener una trama y un orden cronológico entre ellos.
Mientras veían MTV, Hewlett y Albarn tuvieron la idea de crear la banda. En una entrevista comentó: «Si alguien mira MTV durante demasiado tiempo, podrá darse cuenta de que es un poco como el Infierno: ahí no hay nada interesante. Así tuve la idea de crear una banda de dibujos animados con Albarn».3 Gorillaz está representado por cuatro personajes de dibujos animados: 2-D, Murdoc, Noodle y Russel. Son usados para el material promocional, como en las portadas de discos, en carteles y en los conciertos, en los que se utilizan hologramas de los personajes. La música del grupo siempre cuenta con colaboraciones de diversos artistas; Albarn es el único colaborador permanente.4 Su música ha sido considerada como una mezcla de rock alternativo, hip-hop, electrónica, Rap, dub y pop.5 Gorillaz ha lanzado cinco álbumes de estudio con las compañías discográficas Parlophone y Virgin: Gorillaz en 2001, Demon Days en 2005, Plastic Beach en 2010, The Fall en 2011 y Humanz en 2017.
En abril de 2009, se lanzó el documental Bananaz, que cuenta la historia detrás de Gorillaz desde su creación hasta 2006. En noviembre de 2009, se confirma el tercer álbum de Gorillaz, titulado Plastic Beach que salió a la venta el 8 de marzo de 2010. En febrero de 2009, se publicaron 3 demos del álbum: "Electric Shock", "Broken" (con Sid Hyet) y "Stylo". Jamie afirma que dará una nueva perspectiva a todos los personajes. "Stylo" fue lanzado como primer sencillo el 26 de enero de 2010 por medio de iTunes y cuenta con las colaboraciones de Mos Def y Bobby Womack. Actualmente, Damon Albarn ha confirmado que se han grabado desde el principio más de 80 del supuesto "Carrousel Project", temas de los cuales actualmente se encuentran editados 18 y que según medios extraoficiales se lanzarían una segunda y hasta una tercera parte de Plastic Beach, aunque Gorillaz no ha mencionado nada al respecto. Lo que podría ser una pista de ello sería el nuevo single Doncamatic, el resto de los temas actualmente están sin terminar o dispersos en los distintos proyectos de Albarn posteriores a Plastic Beach.
En abril de 2012, Damon reveló que Gorillaz está en una especie de "receso" indefinido ya que él y Hewlett deben arreglar ciertas diferencias con respecto a sus futuros proyectos y discrepancias con la falla de la promoción de Plastic Beach, pero que no sería el fin de Gorillaz.
En abril de 2014, Albarn dijo al National Post que a él "no le molestaría el intentar nuevamente grabar más de Gorillaz." Dos meses más tarde se informó que había "estado escribiendo un buen montón de canciones en la carretera para Gorillaz". El 19 de octubre de 2014, Albarn dijo al Sydney Morning Herald que estaba planeando lanzar nuevo material de Gorillaz en 2016.6 A la vez en el primer semestre del 2015 Hewlett publicó en su cuenta de instagram ilustraciones de los cuatro integrantes de la banda y afirmó: "Sí, Gorillaz está de vuelta".7 Días después, Albarn confirmó que el regreso de la banda es seguro y aseguró que espera empezar a grabar el nuevo material entre noviembre y diciembre, una vez que termine de trabajar en un musical basado en Alice In Wonderland llamado "Wonder.land", y espera que este nuevo álbum esté listo al finalizar el 2015.
Damon Albarn
, co-creator of Gorillaz
Fuera de su historia real, Gorillaz tiene una larga y compleja historia ficticia de sus miembros virtuales. Se ha escrito un libro llamado Rise of the Ogre que cuenta esta historia sobre los miembros virtuales desde sus comienzos hasta 2007. A fines de 2010 Cass Browne guionista y baterista de la banda anunció que estaban pensando lanzar un libro que continuaría todo desde 2007 a la actualidad llamado "The End Of Plastic Beach" contaría con entrevistas a la banda, imágenes y explicando misterios del surgimiento de la isla plástica.
2D: vocalista, melódica, teclados, sintetizador (segundo miembro de la banda)

Noodle: guitarra eléctrica, acústica, melódica, voces de fondo

Murdoc Niccals: bajo, voces de fondo (primer miembro de la banda y líder).

Russel Hobbs: batería
Jounkey Mounkey: voz que sale en canciones como "All Alone" y "Plastic Beach"
Cyborg Noodle: guitarra, voces de fondo
Definida como «dark pop», «zombie hip-hop» por sus creadores, la estética musical de Gorillaz pertenece en gran parte a Damon Albarn.[cita requerida]
El abanico de estilos de la banda es amplio y va desde el hip-hop americano más antiguo (Gorillaz ha tomado los ritmos típicos de la música negra de finales de siglo XX y les ha añadido melodías pop), el breakbeat, brit-pop (melodías pegajosas y guitarras poderosas, características de la etapa anterior de Albarn), ambient, música latina, reggae, -dub, punk (Gorillaz ha sabido captar algunos momentos de los primeros discos de la banda de Strummer y Cía. También se han quedado con la rebeldía y el gamberrismo, dos características importantísimas en la imagen y la música del grupo), trip hop y el rock indie entre otros.
Como se puede ver en el documental Bananaz, Damon Albarn y Jamie Hewlett afirman en una entrevista de una radio que el grupo nace con la idea de burlar toda la "basura" que se puede ver en MTV. Esta es una de las razones por las que el grupo roza tantos estilos, siendo la mayoría de ellos los protagonistas de la cadena de televisión (electropop o hip-hop). Precisamente Noodle, la guitarrista de la banda virtual, en su segundo disco creó y promovió el movimiento relacionado "Reject False Icons", que se situaba en contra de estos fenómenos.