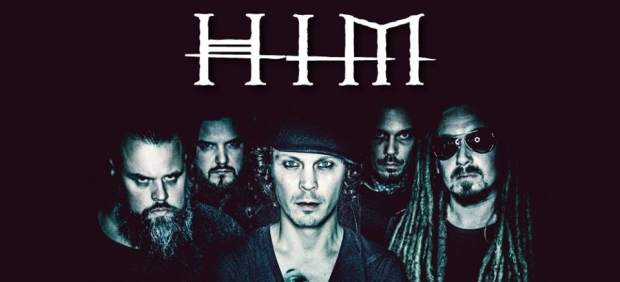 HIM es reconocida por un distintivo creado por Ville Valo, líder de la banda, que recibe el nombre de Heartagram, el cual es una combinación entre un corazón y un pentagrama invertido, que según Ville Valo representa la unión perfecta entre el mal y el bien; el amor y la muerte, sería como un moderno Yin Yang en el que el corazón sería el Yang y el pentagrama invertido el Yin.
En 2002, salió, únicamente en Finlandia, "Synnin Viemää" escrito por J.K Juntunen, donde el grupo narra su historia y cómo han llegado a darse a conocer al mundo.
El 5 de Marzo de 2017 la banda confirma a través de un comunicado su separación para después de la gira de verano en la que pasarán por España.
"Witches and Other Night Fears" fue el primer disco que la banda grabó. Se trata de una demo realizada en 1992, y por una razón desconocida, se decidió no sacarla a la luz. Ville Valo posee la única copia conocida.
En 1995, año en que se consideraría realmente el inicio de la banda, la formación constaba de Valo como vocalista, Linde en la guitarra, Migé Amour en el bajo, Antto Melasniemi en el teclado y Pätkä en la batería. En este año, se lanzó This Is Only the Beginning, en Finlandia, en un principio la banda se llamó "His Infernal Majesty", aunque acortaron su nombre por el actual, HIM, debido a que se asociaban con rituales satánicos.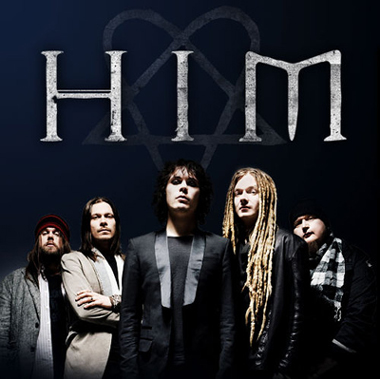 La banda lanzó su primer álbum de estudio, Greatest Love Songs Vol. 666, el 20 de noviembre de 1997. Cuenta con la versión de Chris Isaak, "Wicked Game" y de Blue Öyster Cult, "(Don´t Fear) the Reaper". De este álbum se lanzaron cuatro sencillos, el cual también fue producido por Hiili Hiilesmaa. Al igual que el EP 666 Ways to Love: Prologue, el álbum fue grabado en Finnvox, MD and Peacemakers en Helsinki, Finlandia. Sanna-June Hyde y Asta Hannula, fueron las voces invitadas en "(Don´t Fear) the Reaper" y "For You", respectivamente. Se lanzó una versión digipak con "For You" trasladada a la primera pista. Otra edición especial se publicó en Alemania con el Bonus Track "Stigmata Diaboli", tomado de 666 Ways to Love: Prologue. En consonancia con el tema del 666, el álbum tiene una duración de 66:06 y contiene un total de 66 pistas (56 de las cuales están en blanco). Hay otra pista que comienza a los 6 minutos en la pista 66, es el outro de "The Heartless" de 666 Ways to Love: Prologue. La pista se llama "HIM 666", "666" o "Dark Circle". Éste es el único álbum de HIM en el que hay una pista oculta. Aunque, a veces se perciben referencias al culto a Satán, Valo ha negado que el álbum tenga tales referencias. Todas las pistas del álbum se han tocado en directo, pero algunas de ellas como "The Beginning of the End", "For you" y "Our Diabolical Rapture", ya no están en el setlist de la banda desde hace varios años.
A pesar de la buena acogida que tuvo en Finlandia, Melasniemi abandonó el grupo siendo sustituido por Zoltan Pluto.