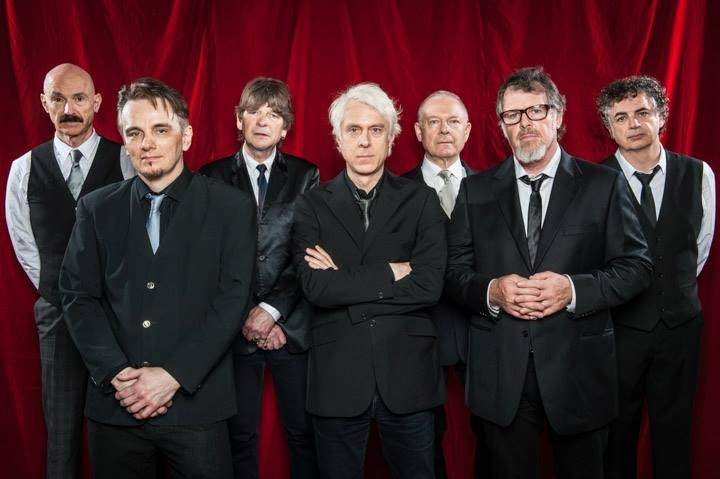 King Crimson es una banda de rock progresivo fundada en Londres en 1969. Es considerada una de las pioneras y uno de los pilares del género, más allá de su diversificación sonora y mutaciones estilísticas.
La banda ha adoptado diversos sonidos durante su historia, producto de la diversa instrumentación utilizada y ha tenido una gran influencia en muchos artistas de la música contemporánea. Además, ha ganado un gran número de seguidores a pesar de tener poca presencia en la radio, televisión u otros medios de comunicación.
Aunque originaria de Inglaterra, la banda ha tenido una mezcla de personal de Inglaterra y de Estados Unidos desde su reencarnación de 1981. El grupo se caracteriza también por su constante cambio de miembros, habiendo pasado por sus filas más de dos decenas de músicos, y por largos periodos de inactividad. Robert Fripp, el guitarrista y líder, es el único que forma parte del Rey Carmesí durante toda su larga historia, si bien algunos otros músicos como Bill Bruford, Adrian Belew o Tony Levin tienen una larga trayectoria en el grupo.
Robert Fripp en concierto con King Crimson en 1974.
El nombre King Crimson (Rey Carmesí) fue idea del letrista Peter Sinfield como un sinónimo de Belcebú, príncipe de los demonios. Según Fripp, Belcebú es un anglicismo de la frase árabe B'il Sabab, la cual significa "hombre que ambiciona".
La alineación debut del grupo fue muy influyente, pero de corta duración (duró poco más de un año). En 1970 o 1971, King Crimson ya era una banda inestable, con muchos cambios de miembros. En 1972 se alcanzó una mayor estabilidad (con el bajista y vocalista John Wetton) y se desarrolló un sonido que mezclaba hard rock, música clásica y jazz, separándose por primera vez en 1974. La banda volvió a formarse en 1981 durante tres años más (esta vez influido por el new wave y con un estilo completamente diferente), pero volvió a separarse en 1984. Retornó nuevamente después de más de diez años, en 1994, lanzando el álbum THRAK. En el 2000 y en el 2003, se lanzarían los álbumes The ConstruKction of Light y The Power to Believe, respectivamente. Su última época de actividad dio comienzo en 2014.1
Aunque Fripp ha sido el único factor común de todos los discos y todas las alineaciones de King Crimson, él no se considera a sí mismo como líder. Para él, King Crimson es "una manera de hacer cosas" y los constantes cambios de sus miembros sólo reflejan ese punto de vista.
En agosto de 1967, los hermanos Michael Giles (batería) y Peter Giles (bajo), contando ya con alguna experiencia musical producto de sus pasos por anteriores grupos, dieron cuenta públicamente de la necesidad de un cantante para su proyecto. Robert Fripp, que no era vocalista, mostró su interés de formar parte del proyecto y así nació Giles, Giles and Fripp.
Basados en un formato de canciones pop excéntricas e instrumentales complejos, la banda grabó varios sencillos sin éxito y un álbum , The Cheerful Insanity of Giles, Giles and Fripp. La banda se cernía sobre el borde del éxito, con varias sesiones en la radio y una aparición en la televisión, pero nunca logró alcanzar un éxito comercial. El álbum no era más que un éxito de los sencillos, e incluso fue menospreciado por Keith Moon de The Who en una revisión de una revista. En el intento de expandir su sonido, Giles, Giles and Fripp reclutó al multi-instrumentista Ian McDonald, que tocaba teclados, saxos y flautas.
McDonald trajo entonces a su novia, la ex cantante de Fairport Convention Judy Dyble, cuya estadía en el grupo fue breve y terminó al mismo tiempo que su separación sentimental con McDonald. Luego, McDonald trajo al letrista Peter Sinfield, con quien había estado escribiendo canciones. Esa amistad comenzó cuando McDonald le dijo a Sinfield, con respecto a su banda de 1968 (Creation): "Peter, tengo que decirte que tu grupo no tiene remedio, pero escribes grandes letras. ¿Te gustaría escribir juntos un par de canciones?" Una de las primeras canciones que McDonald y Sinfield escribieron juntos fue "The Court of the Crimson King".
Tony Levin en 1993
Fripp, por su parte, había visto al grupo musical 1-2-3 (más tarde conocido como Clouds) en concierto. Esta banda inspiraría más tarde algunas canciones de Crimson de melodías clásicas, de jazz e improvisación. Es entonces cuando Fripp recomendó a su amigo Greg Lake, un cantante y guitarrista, para que formara parte del grupo. Lake debería reemplazar a Fripp o a Giles. A pesar de que Peter Giles más tarde describiría al hecho sarcásticamente como uno de los "lindos movimientos políticos" de Fripp, él mismo expresó su desilusión con Giles, Giles and Fripp, ya que no había conseguido el éxito esperado. Peter Giles entonces renunció para ser reemplazado por Greg Lake como el bajista y cantante del grupo. En este punto, la banda se transformó en lo que se convertiría en King Crimson.
Greg Lake
En 1969 el grupo debutó como telonero de los Rolling Stones en un concierto en el Hyde Park, y grabó su primer disco, In the Court of the Crimson King, en octubre. También realizaron su primera gira por Europa y Norteamérica. A finales de año surgieron tensiones y diferencias creativas que desembocaron en la salida de Michael Giles e Ian McDonald de la banda, quienes al año siguiente grabaron un álbum con el nombre de McDonald and Giles.
Seguir leyendo.....
https://es.wikipedia.org