Klaxons es una banda inglesa de new rave. A pesar de ser etiquetados de "banda londinense", los tres miembros originales provienen de otras provincias en el Reino Unido como los son Stratford-Upon-Avon (James Righton y Simon Taylor Davis, quienes también fueron juntos a la escuela) y Bournemouth (Jamie Reynolds).
El álbum debut de la banda, Myths of the Near Future, fue lanzado el 29 de enero de 2007, siguiendo el lanzamiento del sencillo «Golden Skans» el 22 de enero del mismo año. El álbum fue producido por James Ford, de Simian Mobile Disco (quien también realizó la percusión del álbum a excepción de "Atlantis to Interzone" que fue hecha por Steffan Halperin).
Klaxons encabezó el Tour Indie Rave de NME que empezó en febrero de 2007. La banda acaba de terminar un tour de éxito taquillero por América para después continuar en el Reino Unido durante mayo de 2007 y por los momentos también están planeando como hacer para que Dr. Dre produzca su segundo álbum. Regresaron en el verano para realizar un número de festivales ingleses e irlandeses como Glastonbury, T in the Park, Oxegen, O2 Wireless Festival y los Festivales de Reading y Leeds.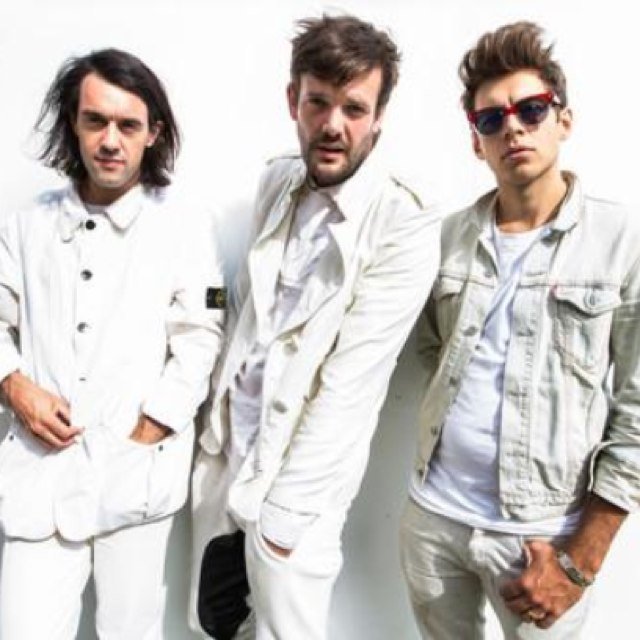 Simon Taylor-Davis asistió a una escuela en Stratford-upon-Avon. James Righton, quien estaba en un año inferior en la escuela, le enseñó a tocar la guitarra. Después, Taylor-Davis estudió Artes en la Nottingham Trent University y fue Jamie Reynolds, el novio de una de sus compañeras de habitación, el que le propuso formar una banda.
Jamie Reynolds creció en Bournemouth y Southampton y fue miembro de diferentes bandas en sus años de adolescente, quizás la más notable fue Thermal. Las bandas se disolvieron rápidamente y él dejó la escuela para trabajar en tiendas de discos durante los siguientes años, mientras estudiaba filosofía. Se mudó a Londres hasta que fue despedido, y gastó su dinero del despido en equipo de estudio para poder grabar con Simon y James bajo el nombre de "Klaxons (Not Centaurs)".
James Righton, al igual que Simon, creció en Stratford-Upon-Avon, trabajando cada verano en el crucero del río. Su interés en la música fue infundido por su padre que era músico. Después de estudiar Historia y Política en la Universidad de Cardiff, pasó un tiempo en Madrid enseñando Inglés, y volvió al Reino Unido por la petición de Simon de unirse a la banda ya que necesitaban a otro vocalista/instrumentalista. Junto a miembros de Pull Tiger Tail (con quienes habían compartido un piso en New Cross) James y Simon ya habían estado juntos en una banda llamada "Hollywood is a Verb" que estuvo activa por muy poco tiempo durante el verano de 2004.
La alineación fue luego reforzada con la adición del baterista Steffan Halperin (el antiguo baterista, Finnigan Kidd, se fue para enfocarse en otra banda llamada "Hatcham Social"), quien fue reclutado para apariciones en vivo después de aparecer en la pista "Atlantis to Interzone". Ya durante principios de 2007, Halpperin se ha convertido en miembro oficial de la banda, siendo nombrado en el MySpace de la banda y presentarse en varias entrevistas. Se mantiene prácticamente ausente de los videos musicales de la banda, apareciendo solo en el video de "Atlantis to Interzone" y brevemente en el relanzamiento del 2007 de "Gravity's Rainbow".