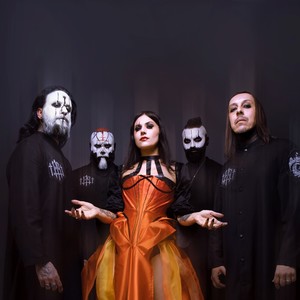 Lacuna Coil es una banda italiana de metal gótico formado en Milán, Lombardía en 1994.9 10 Antiguamente fueron conocidos como Sleep of Right y Ethereal. De acuerdo a la banda, ésta ha sido influenciada por grupos como Paradise Lost, My Dying Bride, Tiamat, Anathema, Septic Flesh, Black Sabbath, Type O Negative, Sentenced, Depeche Mode, In Flames o Amorphis, entre otros.
Lacuna Coil ha participado en los más grandes festivales de metal en todo el mundo, incluyendo Ozzfest, Bloodstock Open Air, Wacken Open Air, y en el Loudpark Festival en Japón.
Actualmente son considerados como una de las bandas de hard rock y heavy metal más influyentes en Italia, así como una de las bandas italianas con mayor éxito en el extranjero y de las más influyentes en el metal gótico.
El génesis de Lacuna Coil origina en 1994, cuando Marco Coti Zelati y su amigo, Andrea Ferro, forman la banda Sleep of Right. Coti tocaba la guitarra, Ferro el bajo y Raffaele Zagaria se une como guitarrista y Michelangelo como baterista. La banda tocó su primera presentación en vivo en Bolonia, Italia en 1994. Grabaron Bleeding Souls, el cual fue publicado en 1995 en el disco compilatorio Noise of Bolgia.
Coti empieza a tocar el bajo, así Andrea se concentró como vocalista. Se les unió Claudio Leo, como segunda guitarra, y Leonardo Forti como baterista; luego de la partida de Michelangelo. Su siguiente decisión fue incorporar a Cristina Scabbia, amiga de ellos, para que cante algunas canciones. Debido a que Scabbia complementaba muy bien la banda, fue incluida como un miembro permanente.
Luego de la unión de Scabbia como vocalista de la banda, esta cambia su nombre a Ethereal y en mayo de 1996 graban y envían un demo, de dos canciones, Shallow End y Frozen Feeling, a diversas disqueras europeas. La banda recibe respuestas de Nuclear Blast y Century Media; luego deciden sellar el trato con Century Media y descubren que el nombre Ethereal ya había sido tomado por una banda griega. La banda, en aquel entonces formada por Scabbia, Ferro, Coti Zelati, Leo, Zagaria y Forti, decide nombrarse Lacuna Coil, que significa "espiral vacío".
Lacuna Coil en el Mera Luna Festival en el 2005.
En 1997, en el Woodhouse Studio en Alemania, Lacuna Coil empiezan a grabar sus primeras canciones con la firma Century Media. Las diferencias musicales entre Zagaria, Forti y el resto de la banda empiezan a surgir. A pesar de estos problemas, la banda graba seis canciones, producidas por el guitarrista Waldemar Sorychta de Grip Inc. Sin embargo, la banda decidió no incluir las canciones del demo Ethereal ya que no encajaban con el nuevo estilo de la banda.
Con el EP, también llamado Lacuna Coil el cual sería lanzado a inicios del año 1998, la banda se une al grupo de metal gótico Moonspell en diciembre de 1997, en una gira promocional europea. Raffaele Zagaria, Claudio Leo y Leonardo Forti abandonan la banda luego de sólo tres de doce presentaciones. Lacuna Coil continúa en la gira, con ayuda del guitarrista Anders Iwes de Tiamat y el baterista Markus de Kreator.
Lacuna Coil en el "Ozzfest", en el 2006.
En enero de 1998, incorporan a Cristiano Migliore de la banda Thy Nature, y a Cristiano "Criz" Mozzati de Time Machine. En marzo del mismo año, la banda inicia su segunda gira europea con la banda neerlandesa The Gathering y Siegmen. Durante la gira, Steve Minelli de la banda Node toca la guitarra luego de que el nuevo guitarrista de Lacuna Coil, Cristiano Migliore se hiriese. Además, Alice Chiarelli colaboró como teclista.
Cristina Scabbia en vivo
En agosto, Lacuna Coil participa por primera vez en un festival, Wacken Open-Air. La banda empieza a sobresalir, por lo que deciden incorporar a la banda un segundo guitarrista en vez de un teclista. Esto recién sucede luego de que terminar la grabación de su primer álbum de estudio.