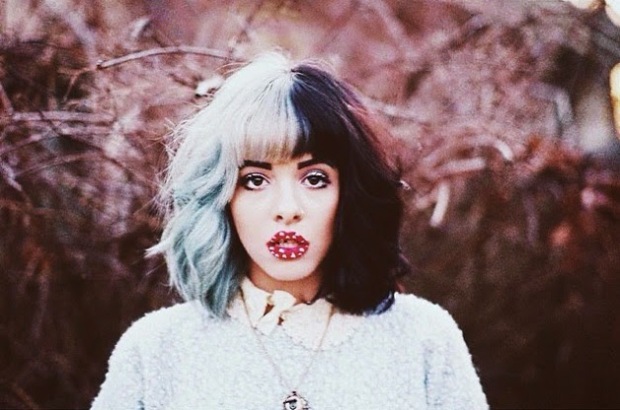 Melanie Adele Martinez nació el
28 de abril
de
1995
en
Baldwin
,
Estados Unidos
.
2
Martinez comenzó a cantar a los tres años y a tocar la
guitarra
un año más tarde aunque no fue hasta los trece que comenzó por cuenta propia a tomar lecciones más instruidas.
3
4
Asistió a la escuela Baldwin Senior High School y, durante su estadía en la secundaria, desarrolló una inclinación por la
fotografía
centrándose en
retratos
y trabajos conceptuales. Por el lado musical, también participó en concursos de talentos escolares y recitales de micrófono abierto en recintos a lo largo de
Long Island
.
Melanie Martinez on House of Blues, localized in Orlando, Florida, in April 4, 2016.
En 2012, Melanie dio una audición para la tercera temporada del popular concurso de talentos estadounidense The Voice de la NBC con la esperanza de desarrollar y mejorar sus habilidades musicales.5 La cadena de televisión transmitió el episodio de su audición el 17 de septiembre. Martinez se presentó en las audiciones ciegas cantando una versión jazz del sencillo de 2003 «Toxic» de Britney Spears. Tras finalizar su presentación, la concursante logró hacer que tres de los cuatro entrenadores —Adam Levine, Blake Shelton y Cee Lo Green— voltearan su sillas, quienes la elogiaron por el sonido «inusual» de su versión. Además de compararla con Björk, Levine la llamó «increíble» y, aunque Shelton y Green intentaron llevarla a sus equipo diciendo actuó como una «artista única que no suena como nadie más», Melanie escogió a Levine para que fuera su entrenador. Antes de unirse a su equipo, la cantante declaró que quería estar en el equipo de quien la dejara expresarse creativamente y ser ella misma. Su versión de «Toxic» entró en el top 100 general y el top 10 de las listas alternativas de iTunes.1 6 Durante el episodio del 9 de octubre, Melanie tuvo su primera ronda de batalla contra Caitlin Michele, quien también pertenecía al equipo Levine. Las concursantes interpretaron la canción de Ellie Goulding «Lights» de 2011 de una manera «inquietante». Aunque la cantante tuvo algunos problemas durante los ensayos, su presentación mostró la fuerza de su voz,7 lo que complicó la elección de Levine por lo que tuvo que pedir ayuda para escoger a los otros jueces.8 El entrenador terminó escogiendo a Martinez como la ganadora, permitiendo que Michele fuera «robada» por Shelton y Green y se uniera al equipo de este último.
Durante las rondas de knockout transmitidas el 29 de octubre, la concursante se enfrentó contra Sam James, también del equipo Adam. Para la competición, Martinez decidió realizar una versión simplificada de «Bulletproof» (2009) de La Roux mientras que James versionó «Walking in Memphis» (1991) de Marc Cohn. La entrenadora Christina Aguilera elogió la actuación de Melanie al decir que «cuando abres la boca y cantas, es casi inquietante, realmente te invita a este mundo especial que sólo tú eres capaz de crear».10 Finalmente, aunque Shelton bromeó sobre el estilo de la cantante y escogió a James como ganador, Adam Levine eligió a Melanie como tal. Según el vocalista de Maroon 5, los nervios de Martinez la ayudaron a relucir con su voz «susurrante».11 Para la primera ronda en vivo interpretó «Hit the Road Jack» (1961) de Ray Charles con un estilo de jazz.12 13 Aunque el público decidió salvar a Amanda Brown y Bryan Keith en el equipo, Adam salvó con su voto a Melanie para que continuara compitiendo