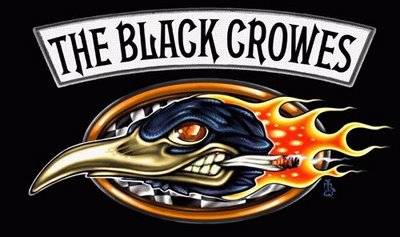 The Black Crowes
es un grupo estadounidense de
Hard rock
que recibe sus influencias de la música rock de los 60 y 70 y del
Blues
de
Estados Unidos
.
Conocidos por su visión personal de la escena musical y los polémicos comentarios del cantante, su segundo disco, The Southern Harmony and Musical Companion, editado en 1992, no iguala en ventas a su antecesor, mostrando nuevos matices en el fondo musical de la banda. En esta ocasión, presentan un nuevo guitarra solista, Marc Ford, procedente de la banda Burning Tree, sustituyendo a Jeff Cease, que fue despedido de forma poco amistosa. El teclista Eddie Harsch también entra como miembro fijo en el grupo.
En el siguiente año vuelven al estudio para facturar un nuevo álbum que sale ese mismo año, bajo el nombre de Lions (2001). Tras este disco, publican un nuevo directo, ya solo de la banda, llamado Live (2002) y los hermanos Robinson se toman un descanso para iniciar sus respectivas carreras en solitario. Chris Robinson publica bajo el nombre de New Earth Mud un disco homónimo en el año 2002 y This Magnificent Distance en el año 2004. Por su parte, Rich Robinson publica el disco Papers.
Rich Robinson, uno de los fundadores de The Black Crowes.
En 2005 volvieron a los escenarios para realizar una gira por América. En 2007 se reunieron definitivamente con nuevos miembros para grabar en estudio el disco Warpaint. En Julio de 2007 sale a la venta el disco en directo Live at the Roxy con el sello Eagle Rock Entertainment, que contiene antiguo y nuevo material de la banda y versiones, tomadas de un show en Los Ángeles en 2006.
En 2010 lanzan al mercado el álbum Croweology, una colección de sus más representativos éxitos a lo largo de su carrera, en versiones acústicas.6 En 2011, en grupo se toma su segunda pausa.
En diciembre de 2012, la banda vuelve de su pausa temporal para hacer 5 shows en el Reino Unido, seguido de una gira de 21 fechas en Estados Unidos que duraría de abril hasta mayo. El álbum fue grabado durante una serie de concierto que el grupo hizo en el año 2010. En julio de ese mismo año, el grupo realizó una gira, con el grupo Tedeschi Trucks Band. En diciembre de este mismo año, el grupo vuelve a tomarse una pausa indefinida. En vez de Luther Dickinson, esta vez el guitarrista del grupo es Jackie Greene.
El 19 de marzo de 2013, el grupo lanza su cuarto álbum en vivo llamado Wiser For The Time. El álbum fue lanzado se puede adquirir mediante la descarga digital, o en su versión de 4 vinilos. En julio de este mismo año, el grupo realizó una gira con Tedeshi Trucks Band. En diciembre de 2013, el grupo vuelve a tomarse una pausa.
El 15 de enero de 2015 Rich Robinson anunció la separación del grupo, debido a un desacuerdo con su hermano Crhis sobre el nombre del grupo, haciendo de esta su tercera separación.