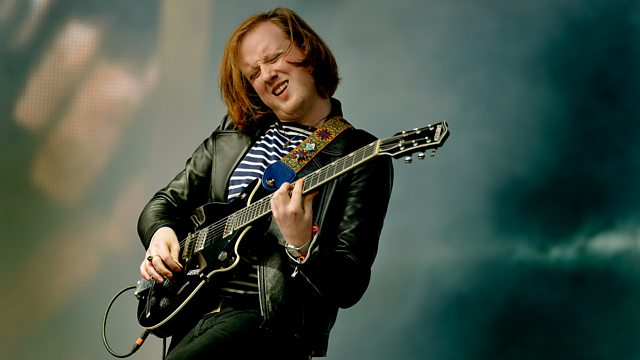 Two Door Cinema Club
(a veces escrito "2 Door Cinema Club" o "TDCC") es una banda
indie rock
e
indie pop
de
Irlanda del Norte
y cuya formación se remonta a 2007.
Alex y Sam se conocieron en los scouts, pero no permanecieron en contacto. Más tarde, se reencontraron en su colegio, donde conocieron a Kevin a través de una chica que ambos conocían.1 Antes de Two Door Cinema Club se llamaron Life Without Rory. Bajo este nombre participaron en el concurso de talentos ATL Rock School, tocando el tema "You Missed the Point" .2 En MySpace se sigue conservando la pagina de dicha formación con sus otras dos canciones "Safe in Silence" y "Conscripted By Choice" .3 Finalmente, en 2007 se confirman como Two Door Cinema Club, con Alex Trimble como vocalista, guitarrista y sintetizadores, Sam Halliday a la guitarra y los coros y Kevin Baird al bajo. Esta vez deciden no contar con un batería permanente y recurrir a uno interino para los conciertos.
The Irish quartet performed Tourist History in its entirety and played a number of new songs at Bonnaroo 2012.
A mediados de junio la banda anunció el título de su segundo álbum, Beacon que se publicó el 3 de septiembre de 2012 en Reino unido y el 4 de septiembre en Estados Unidos y Canadá.5 El álbum debutó en la segunda ubicación del UK Album Chart y alcanzó el primer puesto en Irlanda.6
En una entrevista con BBC el 15 de julio, Trimble dijo que la banda había comenzado a trabajar en su tercer álbum de estudio. También mencionó que la banda tiene el objetivo de lanzar el álbum a principios de 2015. Trimble también anunció que la banda había dejado Kitsuné y firmado con la ex subsidiaria de EMI ahora Parlophone Records.7 8 El 8 de agosto de 2013, la banda anunció que un nuevo EP titulado Changing of the Seasons iba a ser lanzado.9 Junto con la noticia llegó un segundo clip de la canción que da título 30, que se estrenará el 20 de agosto y es el primer single extraído de la EP.10 El 15 de agosto, BBC Radio 1 se estrenó el sencillo.11 La banda lanzará su nuevo álbum, "Gameshow". En su tour por UK le acompañó el grupo indie pop llamado Swim Deep