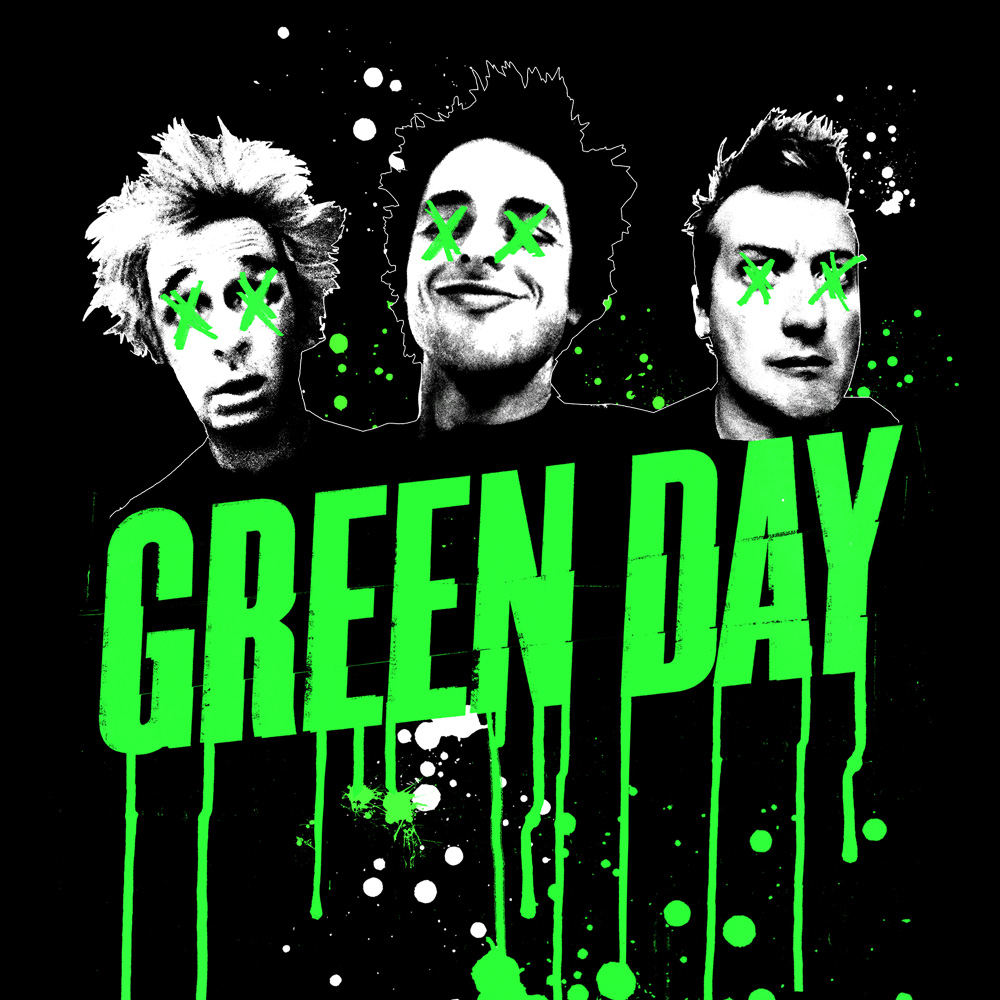 El grupo originario de Berkeley,10 11 California, se gestó prematuramente en 1986 bajo el nombre de Sweet Children, con el baterista John Kiffmeyer (mejor conocido como Al Sobrante). En 1989 se cambiaron al nombre actual y poco después del lanzamiento de su primer álbum de estudio (39/Smooth), Tré Cool reemplazó a Al Sobrante.
Fue uno de los grupos que nacieron en el club 924 Gilman Street, sitio que frecuentaban bandas de punk rock locales. Sus primeras publicaciones se realizaron por medio del sello discográfico independiente Lookout!,12 gracias a las exitosas ventas de sus primeros trabajos discográficos, se obtuvo una importante cantidad de admiradores. Algunos años después, en 1994 el conjunto firmó con Reprise Records, con este sello lanzaron el aclamado Dookie.13 Con este nuevo álbum el conjunto llevó el sonido de finales de la década de 1970 a la nueva generación, además, el álbum se convirtió en un éxito internacional y lleva vendidas más de treinta millones de copias en todo el mundo.14 15
Green Day junto a otras bandas como The Offspring y Rancid, fueron los que produjeron el renacimiento y popularización de los intereses principales en el punk rock en los Estados Unidos, como de la cultura misma,16 17 las masivas ventas produjeron la apertura de una ola de grupos pop punk y punk rock. Diez años después muchos de esos conjuntos se encuentran inactivos o disueltos, mientras que Green Day sigue en plena vanguardia musical con las ópera rock American Idiot y 21st Century Breakdown de 2004 y 2009 respectivamente, ambas con un Premio Grammy al mejor álbum de rock. Editaron una trilogía de álbumes titulados ¡Uno!, ¡Dos! y ¡Tré!, editados en septiembre, noviembre y diciembre de 2012 respectivamente.1 Su último álbum Revolution Radio salió a la venta el 7 de octubre de 2016.
El conjunto estadounidense ha vendido alrededor de 85 millones de copias en todo el mundo.19 20 y más de 30 millones solo en su país.21 22 En 2010 se estrenó una adaptación teatral del álbum American Idiot en Broadway, el musical fue nominado para Tony Awards, incluyendo Mejor Musical y Mejor Diseño Escénico, y ha recibido comentarios positivos en general. A mediados de 2011 la revista Kerrang! los nombró como el segundo grupo más influyente surgido en los últimos treinta años, sólo por detrás de Metallica.23 Según una encuesta pública, en la publicación quincenal de Rolling Stone, se eligió a Green Day como el mejor conjunto de punk de la historia.
Los orígenes de la banda se remontan hacia 1982, cuando Billie Joe Armstrong y Mike Dirnt, en ese entonces dos niños de diez años provenientes de Rodeo, California, ellos se conocieron y estrecharon amistad. Los dos tenían en común grupos que se desarrollaban en Berkely tales como Mr. T Experience, Operation Ivy y Crimpshrine, además, de otros grupos de punk rock de finales de los años 1980 como Social Distortion y Hüsker Dü. El dúo llamó al baterista de Isocracy, John Kiffmeyer y al bajista Sean Hughes para dar nacimiento a un grupo bajo el nombre de Sweet Children, en un principio Armstrong y Dirnt eran los guitarristas.25 26 Su primer concierto fue el 17 de octubre de 1987, presentándose en Rod's Hickory Pit en Vallejo (donde la madre de Armstrong se encontraba trabajando), ante la presencia de unos treinta amigos. Tiempo después el grupo se asentó permanentemente en Berkeley, uno de los epicentros de la corriente punk de California. Además de baterista, Kiffmeyer fue el administrador del grupo, siendo un exitoso gerente de la sociedad artística, gracias a contactos que tenía ayudó a organizar conciertos y promover al conjunto.26 Sean Hughes abandonó Sweet Children en 1988, en su reemplazo fue Dirnt, achicándose el conjunto a un trío.
El dueño del sello Lookout! Records, Larry Livermore, convenció al grupo para que firmase con su casa discográfica independiente, después de presenciar una actuación en vivo de la banda bajo lluvia.27 El primer material que el conjunto publicó con aquel sello fue un EP titulado 1,000 Hours, en 1989. Poco antes de publicar el EP, la banda decidió abandonar el nombre Sweet Children para cambiar a Green Day, según Livermore fue para evitar la confusión con otro grupo local llamado Sweet Baby.28 Green Day era el nombre de una canción escrita anteriormente. Este trabajo discográfico fue muy bien recibido por la escena punk de California.1La canción «Green Day» fue escrita por Billie Joe Armstrong, y habla acerca de fumar marihuana. Al principio de la canción, se puede oír el sonido de una pipa de agua (un dispositivo utilizado para fumar marihuana). El trío fumaba distintos tipos de hierbas en aquella época, pero cuando contrajeron familia, dejaron esos hábitos. Un «Green Day» es un día de descanso para fumar marihuana.29 Al año siguiente editaron el EP Slappy y su primer álbum de estudio llamado 39/Smooth emitido en vinilo y casete,30 en el citado año publicaron su tercer EP pero con Skene! Records, llamado simplemente Sweet Children. Este contenía tres canciones escritas por el mismo grupo: «Sweet Children», «Best Thing In Town» y «Strangeland», siendo esta última, con su pegadizo coro, la que más se acerca al estilo que cultivaría el grupo después, la cuarta canción del EP era un cover de la famosa «My Generation» de The Who.
Green Day editó su primer álbum de compilación en 1991, se llamó 1,039/Smoothed Out Slappy Hours, el título es una combinación de 39/Smooth, Slappy y 1,000 Hours. El álbum incluye los dos EP y el primer álbum de estudio,30 poco después de esta publicación, Al Sobrante abandonó el trío para retomar sus estudios en la Humboldt State University, en Arcata, California.27 26 Entonces, convocaron a Tré Cool, un vecino de Larry Livermore y baterista del grupo Lookouts. Billie Joe Armstrong y Mike Dirnt ya conocían a Tré Cool de diversos conciertos en la época que se hacían llamar Sweet Children. La idea original era que Tré Cool reemplazara a Al Sobrante solo por un tiempo, pero cuando se hizo evidente que Sobrante no volvería, Armstrong y Dirnt decidieron que Tré Cool se quedase como baterista de forma permanente. Esta formación esta vigente en la actualidad. Entre 1992 y 1993, con solo unos años de vida, el conjunto se embarcó en una serie de incesantes espectáculos en países del extranjero, como también en Europa.31 El segundo álbum de estudio fue Kerplunk, lanzado el 17 de enero de 1992 con Lookout!.27 No obstante, en ese momento el grupo rechazo un contrato discográfico con I.R.S. Records.