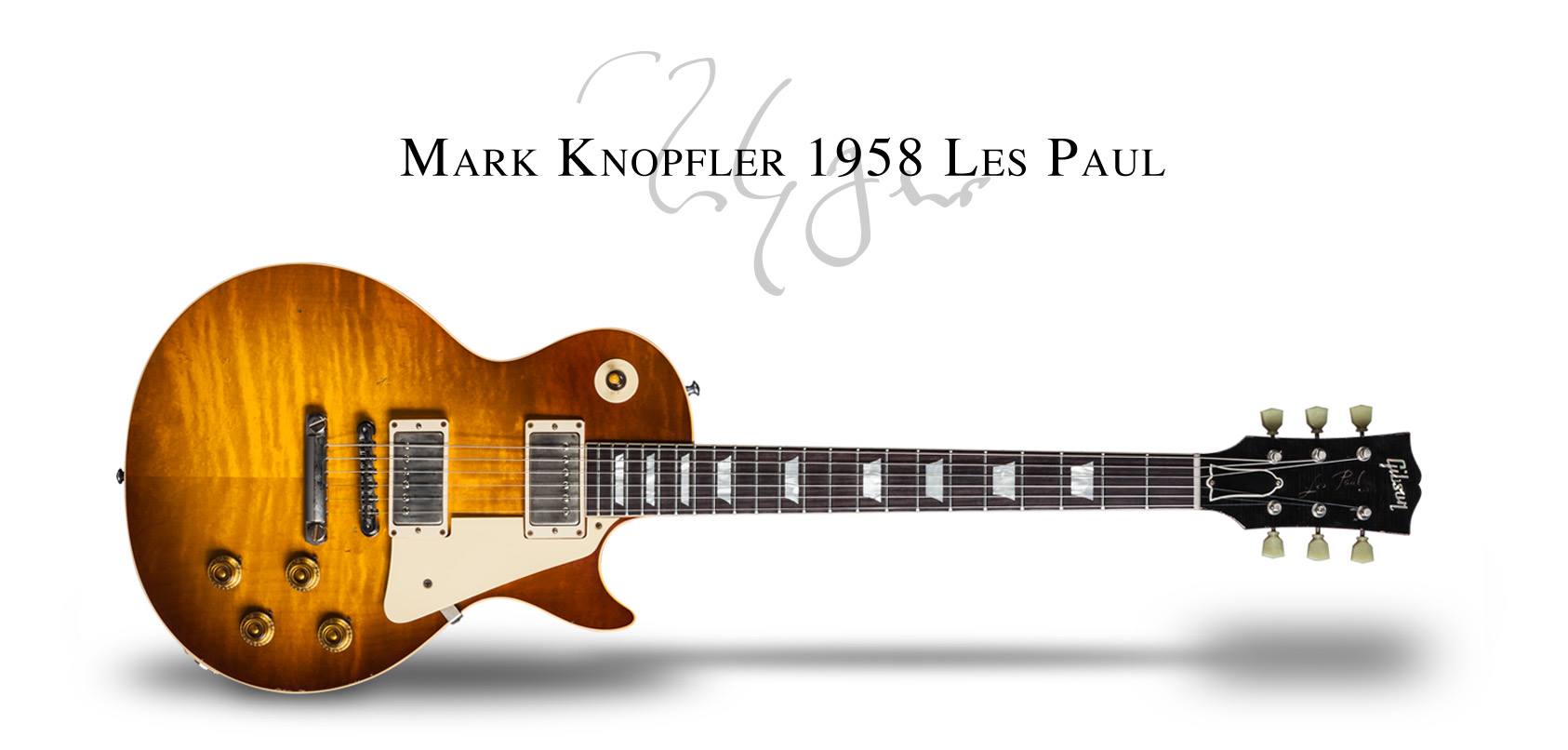 Mark Freuder Knopfler
,
OBE
(
Glasgow
,
Escocia
,
12 de agosto
de
1949
) es un
músico de sesión
,
guitarrista
,
productor discográfico
,
cantante
y
compositor
británico
. Antes de su carrera como músico, trabajó de periodista y dio clases en la universidad. Principalmente conocido como fundador, guitarrista y cantante de la banda
Dire Straits
y su singular estilo con la guitarra sin púa, está considerado como uno de los músicos más importantes de la historia del rock. También ha tocado en otras bandas (
Notting Hillbillies
,
Brewer's Droop
), para otros artistas (
Bob Dylan
en
Slow Train Coming
entre otros), participó en dos discos de
Phil Lynott
Solo in Soho
y
The Philip Lynott Album
) y ha realizado proyectos en solitario. Además, ha compuesto música para varias películas, incluyendo
Local Hero
,
Comfort and Joy
,
Cal
,
La princesa prometida
,
Last exit to Brooklyn
,
La Cortina De Humo (Wag the dog)
,
Metroland
y
A shot at glory
y para otros cantantes como
Tina Turner
,
Private Dancer
. Actualmente lleva una carrera en solitario, con un estilo un tanto diferente al que creó con Dire Straits, basado en un estilo propio, mezcla de diversas fuentes como el blues, el rock y el folk. La revista
Rolling Stone
lo sitúa en el puesto 44º de la
lista de los 100 guitarristas más grandes de todos los tiempos
.
Mark Knopfler nació en Glasgow el 12 de agosto de 1949. Es el segundo de los tres hijos del matrimonio formado por el arquitecto húngaro judío Earwin Knopfler, cuyas simpatías comunistas le obligan en 1939 a exiliarse huyendo del régimen fascista establecido en su país, y Louisa Mary Laidler, inglesa de Newcastle. A los 9 años su familia se traslada a esta ciudad, a orillas del río Tyne, y se instala en Gosforth, un distrito suburbano de la misma. Ya por entonces le ha cogido gusto a la música oyendo a su tío Kingsley tocar boogie-woogie con el piano. Durante esos años de infancia, su padre intenta, con la ayuda de su tío, que aprenda a tocar el piano y también el violín, aunque lo que más le llama la atención es la guitarra.
Con 13 años, Mark asistía a la escuela primaria de su distrito y ya acostumbraba a coleccionar fotos de grupos musicales, sobre todo de guitarristas. Comenzó a insistirle a su padre para que le comprase una guitarra, y con 15 años consiguió por fin que le comprase una Hofner V2 Solid de colores rojo y negro, una guitarra estéticamente similar a una clásica "Stratocaster" que le costó 50 libras. Con ella aprendió escuchando a músicos como B.B. King, J.J. Cale, Jimi Hendrix o Hank Marvin y toca con amigos con los que practica en las casas de alguno de ellos, llegando incluso a tocar en algunas fiestas y bailes escolares. Uno de estos escarceos musicales lo llevó en 1966, con tan sólo 16 años, a aparecer junto a su amiga Sue Hercombe en una televisión local, la NRK, en una entrevista en la que interpretaron la canción "Chilly Winds".
En 1968, tras haber estudiado periodismo durante un año en el Harlow Technical College de Essex, consigue, gracias al hermano de una conocida suya, un empleo en el Yorkshire Evening Post de Leeds en el que trabajó durante dos años haciendo reseñas de grupos locales y de algunas de las grandes bandas que actuaban en la ciudad. Durante estos años, y gracias a su trabajo de reportero, conoce a Steve Phillips, músico local que trabaja como restaurador en el Leeds City Art Gallery and Temple Newsam House, con quien entabla amistad. Sus grandes afinidades musicales les lleva a formar un dúo al que llaman The Duolian String Pickers y a grabar, en abril de 1970, una maqueta de una canción original de Mark, Summer's Coming my Way, junto a otros dos músicos, Dave Johnson en el bajo y Paul Granger en la percusión.
El 18 de septiembre de 1970 su última crónica en el Yorkshire Evening Post acerca de la muerte de Jimi Hendrix. Conmocionado por la noticia, decide dejar el periódico e iniciar estudios de filología inglesa en la Universidad de Leeds que le mantienen en la ciudad hasta 1973. Durante ese período sigue tocando junto a Steve Phillips, quien recoge algunos de sus trabajos en común en el álbum Just Pickin' publicado en 1996. También durante esta etapa universitaria se casa por primera vez con Kathleen Urwin White, una chica que, como él, viene de Newcastle y que estudia en su misma universidad. El matrimonio se celebró en el registro de Northumberland South de Leeds el 4 de marzo de 1972 y duró apenas dos años.
En 1973, una vez terminados sus estudios universitarios decide trasladarse a Londres para intentar alcanzar su meta de tener una banda propia y vivir de la música. Empieza tocando con el grupo Brewer's Droop con el que colabora durante un par de meses y en el que coincide con el batería Pick Withers. Una vez disuelto el grupo Brewer's Droop, Mark pasa una época difícil económicamente hasta que logra un empleo de profesor en el Loughton College de Essex que le permite alcanzar cierta estabilidad. Durante dos años vive en un piso en Buckhurst Hill y forma una banda con amigos del Loughton College llamada Café Racers con la que toca en pubs y escuelas cercanas al colegio donde trabaja.
En abril de 1977, Mark se traslada a vivir con su hermano David y con John Illsley, bajista de Leicester, que comparten un piso en el barrio londinense de Deptford. Fue entonces cuando los tres deciden formar un grupo con el añadido de Pick Withers, el antiguo batería de Brewer's Droop. En un comienzo, el nombre de la banda sigue siendo Café Racers aunque, finalmente, deciden cambiarlo por el Dire Straits (que en inglés viene a significar "grandes apuros" o "situación desesperada"), en alusión a la penosa situación económica que vivían en aquellos días.
En julio de 1977 graban una maqueta de cinco canciones con la que se dan a conocer al gran público, gracias a la difusión que de ella hizo el crítico y presentador musical Charlie Gillet en su programa Honky Tonk de la BBC Radio London. Tras algunas actuaciones posteriores que les permite darse a conocer aún más, los Dire Straits firman un contrato con Phonogram Records gracias a la perseverancia de uno de sus ejecutivos, John Stainze. Es éste quien les pone en contacto con el representante Ed Bicknell, de la agencia NEMS, quien a su vez consigue colocarles como teloneros del grupo americano Talking Heads en la gira británica que a principios de 1978 ofrecieron en varias ciudades del Reino Unido.
En 1978, consiguen publicar su primer álbum, titulado simplemente Dire Straits. Generó el éxito Sultans of Swing. Tras ese álbum, continuaron publicando discos a medida que el personal de la banda iba cambiando. David y Mark se enfrentaron por el protagonismo que tenía este último dentro de la banda. Durante los años 1980, la banda evolucionó musicalmente hacia una mayor complejidad mientras que se convertía en un conjunto de músicos más variado y más grande. En 1985, tan sólo John y Mark continuaban en la banda. Fue entonces cuando publicaron Brothers In Arms, un éxito sin precedentes que les lanzó definitivamente. Artistas de la talla de Sting y Eric Clapton colaboraron con la banda en esta época.
Tras una etapa de silencio a finales de los 80, Dire Straits volvió comienzos de los 90 con el que sería su último álbum 'On Every Street', con una clara influencia country. No consiguió las mismas ventas que "Brothers in Arms" y tuvo críticas polarizadas. Finalmente, en 1995 la banda se disolvió.
Knopfler se había ganado una cierta reputación como músico de estudio. En 1979 Bob Dylan le llamó para las sesiones de Slow Train Coming, que incluye la conocida "Man Gave Names To All The Animals". Dylan había escuchado el single de "Sultans of Swing" y había contactado con él el 29 de marzo tras un concierto en Los Ángeles. Para la grabación en Alabama, Knopfler recomendó a Pick Withers, batería de Dire Straits. En 1980 colabora en el disco "Solo in Soho" de Phil Lynnott, bajista y cantante de Thin Lizzy, concretamente en el tema "King's Call".
En 1983, mientras tocaba con Dire Straits, Knopfler compuso la primera de una larga serie de bandas sonoras, "Local Hero", en la que colaboraron la mayoría de sus compañeros. A Guy Fletcher, teclista que se incorporó a la formación poco después, lo conocieron en 1984, durante la grabación de una de estas bandas sonoras. Fletcher seguiría colaborando con Knopfler en su carrera en solitario y en otras bandas sonoras como The Princess Bride (1987) o Last Exit To Brooklyn (1989): su trabajo más ambicioso como compositor. El estilo de Knopfler en sus bandas sonoras se acerca en general al sonido llamado celta ("Local Hero", "Cal", "A Shot At Glory") aunque también se pueden encontrar ejemplos de otros estilos como el country ("La Cortina de Humo"). En 1993, se publicó Screenplaying; una recopilación de los mejores temas de algunas de sus bandas sonoras.
En la etapa de silencio de Dire Straits a finales de los 80, Mark se encontraba saturado del esfuerzo que había supuesto la gira mundial del álbum "Brothers in Arms". Además, el estilo musical de la banda, le impedía publicar canciones más personales de estilos más minoritarios como el country o el blues. Por ello, en esos años en los que Dire Straits no publicaba nada, Mark aprovechó para publicar un disco con el guitarrista de country Chet Atkins en 1990 (más adelante, en el año 2006, volvería a publicar un álbum de country en colaboración con otro músico, la cantante Emmylou Harris). En 1988 vuelve a colaborar con Bob Dylan en Down in the Groove, en el que coincide con otros grandes, como Clapton. Con Steve Phillips, Brendan Crocker y Guy Fletcher agrupó la banda Notting Hillbillies, que publicó un sólo álbum de estudio, aunque se han reúnido con frecuencia para hacer giras a lo largo de los años 1990.