"
¡Nacer para perder, vivir para ganar!
" Lemmy
Lemmy Kilmister
era el vocalista y bajista de la banda de
rock and roll
británica
Motörhead
.
«Somos Motörhead y hacemos rock & roll».[sin fuentes]

Nota: solía decirlo al iniciar cada concierto.
Yo vengo del rock and roll; esta gente con monos de trabajo y caretas viene del circo (refiriéndose a Slipknot).
Si Motörhead se muda a tu vecindario, no crecerá más hierba en tu jardín.
El verano de 1973 fue fantástico. No me acuerdo de nada, pero nunca lo olvidaré.
En ese tiempo estabamos todos colgados en ácido. Acababamos discutiendo con los árboles, pero lo peor es que a menudo ganaban ellos la discusión.
¡Nacer para perder, vivir para ganar!
Vive rápido, muere de viejo
No soy rockero todo el día: paro para dormir.
Si a la gente el ver a una persona mayor tocando rock' n' roll no le encaja, simplemente pueden no mirar. Hay gente que mejora con la edad si les importa lo que hacen, y ése es mi caso. Realmente nunca he hecho ésto por dinero, ya que nunca hemos vendido demasiados discos. Muchos grupos de mierda son millonarios, pero no es nuestro caso.
Un grupo bueno no es el que te hace mover un rato el pie, sino el que desata tu imaginación.
-Periodista: Lemmy, ¿eres Dios? -Lemmy: ¡No, qué va, una vez vi a Dios cuando estaba de ácido, y él era mucho más alto!
-Reportero de MetalHammer, ¿Lemmy, cómo llevas las resacas? - Lemmy: Chaval, las resacas son para los que dejan de beber...
Nunca me he acostado con una mujer fea, pero si que me he levantado con unas cuantas
Recuerda, somos Motörhead y hacemos puto rock & roll. (Lemmy en mitad de su directo en Wacken Open Air 2009)
No entiendo a la gente que piensa que si ignoras algo, esto desaparecera. Eso es totalmente erroneo. Si es ignorado eso gana fuerza. Europa ignoró a Hitler por veinte años. Y como resultado él masacró la cuarta parte del mundo.
Si él tuvo cojones para operarse yo los tuve para liarme con él.
(Lemmy respondiendo a la pregunta si alguna vez había tenido relaciones con un transexual)
"Cuando muera será un buen momento para dejar de tocar, porque allí es cuando Dios te dice que debes moderarte, cuando mueres"
-En una Pelea entre Dios y Lemmy, ¿quién ganaría?
-Lemmy -No -Dios! -Ninguno, ¡porque Lemmy es Dios!
Habla el bajista y cantante sobre el característico e invariable sonido de su banda: "Hacemos la misma clase de música porque nos gusta. ¿Qué otra puta razón hay para hacer música? Dentro de ese área, la cubrimos toda. Hemos hecho canciones con la que nos hemos alejado de ahí pero si al principio tienes una buena idea, ¿por qué no disfrutarla como tal?"
El padre de Lemmy era párroco que abandonó la familia al poco de nacer. "Hacen falta dos de una pareja para saber lo que ocurrió y solo he oído la parte de mi madre. Eran jóvenes cuando se casaron, al acabar la guerra, todo el rollo del romance en tiempos de guerra. Seguramente a ella le atrajo su uniforme y su santidad, y a él sus piernas y su culo. ¿Quien sabe?"
Lemmy, a lo largo de su vida, las ha visto de todos los colores, y guarda un grato recuerdo de sus ocho meses como 'roadie' de Jimi Hendrix. "Jimi era un anciano excepcionalmente bueno. Maneras del viejo mundo. Si entraba una chica en la habitación, él se arrodillaba sin que importara si era una vieja o algo así. Sacaba sillas para las mujeres, abría puertas a las mujeres. Si yo hago eso se ríen de mi. No cuestan nada, los buenos modales."
Entre sus aficiones está el coleccionismo de objetos del nazismo. Aclara Lemmy que "no soy racista ni nada. Simplemente me gusta el aspecto decorativo de los nazis. Me gusta la pomposidad. El alardeo. Los malos siempre tienen los mejores uniformes. "
A su edad, confiesa haber recurrido a la Viagra y no duda en alabar el conocido medicamento: "Aún la uso, de tanto en cuanto. Si Percy no se refiere a la pulcritud, entonces necesita un empujoncito. ¿Qué hay de malo en eso?"
"No puedes mantener a los hombres fieles," opina sobre el amor. "Si la gente quiere casarse y luego seguir buscando otras cosas, eso es deshonesto. Si te vas a casar, cásate de una puta vez y ahí está. Nunca he visto una chica que me haya hecho dejar de mirar al resto.En 61 años no ha cambiado la cosa, y no creo que vaya a pasar ahora."
Pese a su edad, Lemmy no encuentra ninguna razón por la que deba dejar los escenarios. "Si te ves tan bien como yo, ¿por qué no? No recuerdo que hubiera un límite de edad cuando empecé. ¿No se debería seguir después de los 59? A la mierda con eso. Lo único que me detendrá es si no me veo capaz físicamente. Pero, ¿qué hay estando retirado que pueda ser mejor que lo que tengo ahora? "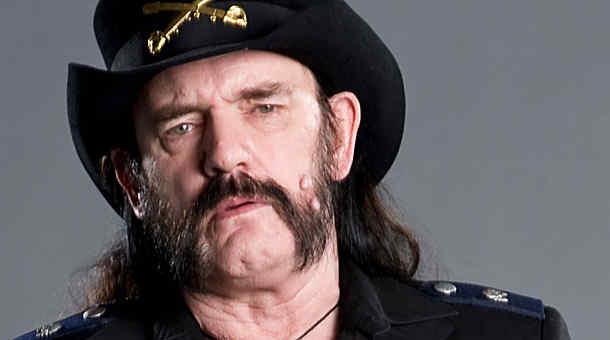 - El año pasado se dio a conocer una particular anécdota ocurrida en un festival europeo, que pinta de cuerpo entero la legendaria indestructibilidad de Lemmy ¿Podrías ampliar sobre ese hecho? - Fue en un show en un festival de Francia, que supuestamente debía hacerse al aire libre. Ese día hacía 42 grados a la sombra y el productor del show perdió las autorizaciones para hacer el festival en el lugar estipulado, por lo que tuvo que mover todo a un lugar cerrado, una especie de hangar, sin ventilación ni aire acondicionado. En el escenario, sin exagerar, debe haber hecho unos 60 grados. Había bandas jóvenes que tocaban durante unos 20 minutos y algunos de sus miembros tuvieron que ser atendidos por los médicos en el backstage. Yo miraba eso y pensaba "¡Oh, Dios mío, nosotros tenemos que tocar una hora y media con este calor!". Mi técnico de batería contó lo que yo estaba tomando y me dijo que me había bebido unos ocho litros de Gatorade durante el show.Y, cuando estábamos yendo hacia el lugar, le pregunté a Lemmy que pensaba tomar durante el concierto y el me respondió "¿Qué me estas diciendo, Mikkey?, ¡Tengo mi whisky!". Casi colapsó después del show. El doctor le dijo que había perdido cerca del 60 % de sus fluídos. Pero bueno, creo que aprendió su lección. Ahora antes de cada concierto logramos que, además de su whisky, tome un par de vasos de alguna bebida hidratante.
(Mikkey Dee, bateria de Motörhead)
Un grupo de reporteros se embarca junto a Lemmy & Co. en la gira británica del disco "Hammered". Así, compartiendo el autobús, los recitales, el detrás de la escena, los camerines y las salidas de los músicos, descubrirán el enorme trabajo y esfuerzo que le requiere a la banda para seguir activos y vigentes. Las conversaciones a solas con Lemmy son oro puro, mostrándolo en su faceta más intimista y permitiéndonos entender muchas de sus actitudes e ideas. Este es un documental que nunca fue editado oficialmente y solo es conseguible en esta versión grabada de la TV pero con una calidad de imagen y audio envidiables.