Glenn Frey
RIP Glenn Frey. One of the songs my dad would always listen to when I was younger. That guitar
solo at the end will live on forever.
 Muere Glenn Frey, guitarrista de los Eagles El miembro fundador de la exitosa banda de country-rock fallece a los 67 años en Nueva York Hubo una época, allá por los setenta, con la contracultura hecha cenizas tras el festival de Woodstock y el violento festival gratuito de Altamont, "el Woodstock de la costa oeste", ambos celebrados en 1969, que parecía que en Estados Unidos solo estaban los Eagles y, luego, el resto. Pero, sobre todo, estaban los Eagles. En esa época, comprendida especialmente entre 1972 y 1979, la guitarra de Glenn Frey, miembro fundador de la banda, era la más escuchada del país, definiendo con sus cuerdas el country-rock más exitoso de la historia. Frey fue mucho más que el guitarrista principal del grupo de country más famoso del planeta.
Compartiendo liderazgo con el baterista Don Henley, el músico de Michigan fue parte esencial de los Eagles, esos chavales con pintas de cowboys salidos de la comunidad rockera de Los Ángeles, que se conocieron cuando fueron reclutados por separado para acompañar como banda a Linda Ronstand, cantante country de corte clásico, durante la promoción del disco Silk Purse. La experiencia llevó a Frey, Henley, el bajista Randy Meisner y el guitarrista Bernie Leadon -más tarde reemplazado por Joe Walsh y a los que luego se sumaría Don Felder, con un papel importantísimo como guitarrista- a crear su propio grupo. Con esos nombres cortos y característicos tan propios de las bandas británicas que cambiaron el mapa del pop anglosajón durante la conocida British Invasion liderada por Beatles, Rolling Stones, Kinks o Animals, se llamaron los Eagles, en homenaje a los Byrds, que abrieron en los sesenta el camino artístico que ellos tomarían en los setenta hasta convertirlo en una autopista interestatal perfectamente asfaltada y con rumbo a la gloria. Como guitarrista, Glenn Frey había tocado en varias formaciones de Detroit, entre ellas la de Bob Seger, y había liderado una banda llamada Longbranch Pennywhistle junto a JD Souther.
Cuando decidió junto a Don Henley formar los Eagles, lo hizo con una idea en la cabeza: intentar llevar el country-rock precedente de los Byrds y los Flying Burrito Brothers, cuya influencia de honky-tonk era más que notable entre los jóvenes de la costa oeste con gusto por el sonido vaquero, a las audiencias de rock. Es decir, a un mundo mucho más definido por el espectáculo y los decibelios que por las raíces. La fórmula resultó de inmediato. Primero, en 1972, en el álbum de debut, Eagles, que contaba con Take it easy de Jackson Browne (que Frey le ayudó a terminar y acabó firmando también), niño prodigio de Lauren Canyon, que no tuvo más remedio que asumir que casi todo el planeta aplaudiría su magnífica canción creyendo que era obra de los Eagles. Y, después, un año después, en Desperado, en el que Frey despuntó como compositor, haciendo una sociedad perfecta con Henley, a la que los más fanáticos llegaron a comparar con Lennon y McCartney. A decir verdad, el brillo de fenómeno perfecto, como el que representaron los fabulosos de Liverpool apenas unos años atrás, estaba ahí. En menos de un lustro, los Eagles se convirtieron en la banda más grande de Estados Unidos. Su primer recopilatorio, Their Greatest Hits (1971-1975), fue el disco más vendido de la historia del país y, a día de hoy, se halla en la parte alta de los más facturados mundialmente junto con el Thriller de Michael Jackson. De hecho, Billy Joel los llegó a calificar "los Beatles norteamericanos". Pero, más allá de esa necesidad estadounidense de hallar siempre una alternativa al símbolo eterno de los Beatles, como antes se hizo con los Beach Boys, Byrds o Creedence Clearwater Revival, los Eagles realmente se erigieron en la década en la que el rock ya tenía su propio mercado adulto y canales comerciales masivos en la respuesta americana a sus coetáneos Led Zeppelin. Con sus camisetas viejas y vaqueros raídos, los Eagles eran la insignia perfecta de la música norteamericana al nuevo rumbo que había cogido el rock, que pronto escenificaría toda su grandilocuencia en estadios.
De esta forma, le dieron a su country una apreciable pegada de hard-rock. Si los británicos tenían su propio avión, ellos también. Si Led Zeppelin grababan Stairway to Heaven, ellos Hotel California, la canción que dio título al disco más importante de su carrera, una fábula sobre la ajetreada vida de las estrellas del rock, publicada en 1976, cuando ya habían roto todos los récords con su "Grandes Éxitos", y que les puso en la cima más grande jamás alcanzada por una formación con la etiqueta de "country". The Eagles: Don Felder, Don Henley, Joe Walsh, Glenn Frey y Randy Meisner De izquierda a derecha: Don Felder, Don Henley, Joe Walsh, Glenn Frey y Randy Meisner. / RB Ese éxito, pero también esa deriva consciente de estandarizar las esencias, les llevó a ser uno de los grupos más odiados por la nueva contracultura de los setenta, por la generación punk y, aún más doloroso para ellos, por los auténticos guardianes del mejor country-rock. De estos últimos recibieron las peores palabras. Chris Hillman, que pasó por Byrds y fundó Flying Burrito Brothers, dijo: "Los Byrds inventaron el country-rock, Gram Parsons y yo lo definimos y los Eagles lo llevaron al banco". Parsons, espíritu filosofal del género, fue más contundente cuando poco antes de morir aseguró que los Eagles eran "un mal polvo con sabor a plástico". Y, entre tanto, Tom Waits, al que le versionaron su balada noctámbula Ol'55, aseguraba que lo mejor que se podía hacer con los discos de los Eagles era usarlos de posavasos. Afectados mucho más por la presión de las giras y los enormes problemas internos como banda que por las críticas, se separaron en 1980. Henley y Frey se lanzaron a carreras en solitario.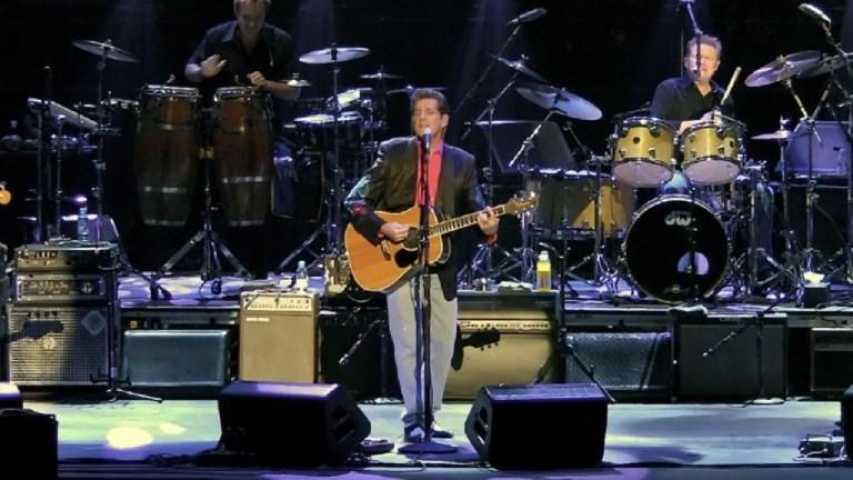 En el caso del reciente fallecido, sus discos pasaron sin pena ni gloria mientras componía alguna canción para el cine o se le podía ver de actor en la serie Miami Vice. Los Eagles regresaron en 1994, a pesar de que Henley juró que nunca habría un reencuentro. "Antes se congelaría el infierno", aseguró en su día. Pero el infierno se congeló, tal y como rezaba Hell Freezes Over, el disco que sacaron para su esperado regreso, y volvieron a ser una banda de grandes audiencias con mucha carretera a sus espaldas -llegando a visitar España- y una importante dosis de nostalgia, que intentaron combatir en ocasiones con álbumes como Long Road Out Of Eden, aunque su manager Irving Azoff reconoció que "tocando una hora en Kansas" se llevaban "más dinero que de iTunes en todo un año". Y, como banda reunificada, también tenían sus problemas: Henley y Frey se quitaron de en medio a Felder al cuestionarles su liderazgo. A fin de cuentas, los dos habían creado los Eagles y los dos se sentían en pleno derecho de mandar sobre los demás.
Ahora, sin Frey a la guitarra será muy difícil imaginarse a los Eagles, que en este siglo XXI son una vieja gloria, como tantas, apurando los últimos años de carretera, aferrándose, como la mayoría de ellas, cómo pueden, con dignidad o sin ella, a las resonancias de esa época que hubo y que no volverá. Y, al igual que millones de personas de una generación han llorado la reciente e irreparable pérdida de David Bowie, otros millones de personas de esa misma generación lloran ahora la de Glenn Frey. Incluso, sin miedo a equivocarse, serán más en Estados Unidos los que lloren al guitarrista de Eagles, esa banda que durante aquella época cantaba a eso tan americano de los coches, las carreteras y las vidas en busca de rumbo, e inventando para muchas de ellas un lugar imaginario donde repostar llamado Hotel California.