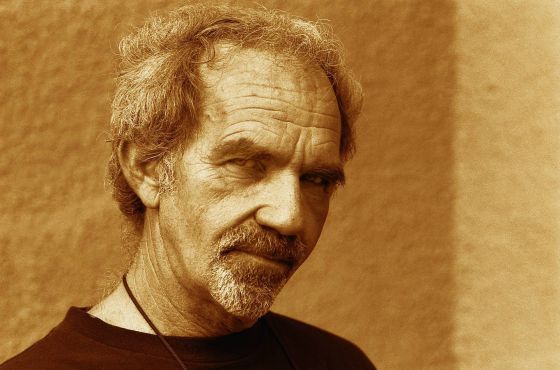 J. J. Cale, la voz más relajada del rock


Eric Clapton popularizó composiciones suyas como 'Cocaine' y 'After midnight'
Poseedor de un estilo hipnótico, vivió de espaldas al negocio de la música
Erase un hombre a una leyenda pegado. Se supone que detrás de los discos de
J. J. Cale
había un ser huraño, ajeno al mundillo musical, creador de sus propias guitarras, perfeccionista hasta la obsesión. Tiene cierta lógica que la noticia de su muerte nos haya llegado envuelta en confusión, entre voces que insistían que se trataba de un engaño.
Desdichadamente, parece confirmarse: John Weldon Cale, de 74 años, falleció en un hospital californiano, tras un ataque al corazón. Hace medio siglo que Cale viajó a Los Ángeles, siguiendo la pista de Leon Russell, Carl Radle y otros amigos. Todos eran okies (naturales de Oklahoma) y, como los personajes de Steinbeck en Las uvas de la ira, sabían que California era una tierra prometida dura; con todo, un músico laborioso podía hacerse un hueco.
Cale no ju
gó la carta del artista extravagante, como Russell. Era tímido y prefería funcionar en la penumbra de los estudios de grabación, al lado del productor Snuff Garrett. Entrevistado en 2004, se reivindicaba como "un técnico de sonido". Amaba el mundo de la grabación, la modificación de instrumentos, la posibilidad de trabajar en soledad.
Le costó encajar en la industria musical. Allí le rebautizaron como Jean-Jacques Cale: aparentemente, tenía más caché alegar que era un cajún, descendientes de los colonos franceses en Luisiana. También flirteó con la moda psicodélica, al frente de un grupo fantasma denominado The Leathecoated Minds.
Grabó singles como J. J. Cale en el sello Liberty y en uno de ellos estaba After midnight. Su evocación del Sur profundo, con sugerencias de una sensualidad secreta, llamó la atención de Eric Clapton, que ansiaba simplificar su música. Lo incluiría como parte de su primer LP en solitario y sonaría mucho a partir de 1970. Un editor musical de Nashville, Audie Ahworth, olió dinero y propuso a Cale que grabara discos a su ritmo, sin presiones.
Naturally llegó a finales de 1971. Uno de los cortes, Crazy mama, alcanzó las listas pero tuvieron más fortuna otros artistas con su repertorio, caso de Lynyrd Skynyrd y Call me the breeze. Ese fenómeno se repetiría con posteriores lanzamientos. En Troubador (1976) estaba Cocaine, canción que terminaría identificándose con Eric Clapton, convertida en himno que coreaban las multitudes con entusiasmo, a pesar de la ambigüedad de la letra.
El mito estaba servido. Un músico arisco, que actuaba poco y que se colocaba de espaldas al público ("Lo hacía para comunicarme mejor con mis músicos, como el director de una sinfónica"). Le imaginábamos tocando al anochecer, en el porche de una casa rústica; de hecho, a veces grababa así, aunque también podía realizar un álbum como Really (1972), que requirió media docena de estudios, con diferentes equipos de instrumentistas.
Estableció su estilo laid back (aquí traducido coloquialmente como "echao p'atrás"). Ritmos cíclicos, voz susurrante y hundida en la mezcla, música brumosa. Como el moonshine: un destilado de blues y country extraído por un alambique perezoso. Pero no era un paleto enemistado con la tecnología: apreciaba las cajas de ritmos, el software musical, ayudas para intentar grabar discos que sonaran diferentes. Sin éxito, puntualizaba: "siempre hago el mismo disco".
En realidad, no le apetecía jugar en Primera División. Aseguraba no ser consciente de su influencia universal (tan evidente en artistas como Joaquín Sabina). Le divertía que Dire Straits triunfaran inicialmente con una mutación de sus hallazgos pero "hubiera preferido que Knopfler cantara directamente mis canciones". Los derechos de autor eran la base de sus ingresos: para frustración de muchos promotores, incluyendo españoles, rara vez salía de gira. Y eso que se trataba de un hombre de gustos sencillos; durante largas épocas, se alojaba en una casa sobre ruedas, asentada en trailer camps.
Cuando este periodista pudo entrevistarlo, vivía en el condado de San Diego, cerca de una localidad llamada Escondido, "en medio de lo que llaman civilización". De ahí el título del disco que registró a medias con Clapton en 2006, The road to Escondido. En contra de su fama, le gustaba colaborar con otros creadores. Hizo bandas sonoras para películas europeas, produjo al bluesmanJohn Hammond y al guitarrista Gordon Payne. Bromeaba e insistía en que no se sentía alguien especial: "hago lo mismo que Britney Spears. Sólo que no me atrevo a desnudarme".